Annabelle Georges, 37 years old, tells in an autobiographical book (Ilion Editions) the ordeal she has endured since March 20, 2020. She testifies to help all those who, like her, are confronted with the incomprehension of the medical profession and some of her friends.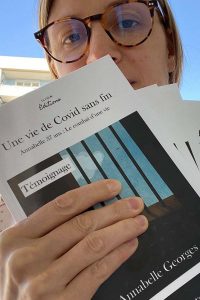 It is a very strong testimony that Annabelle Georges delivers in her book "Une vie de Covid sans fin" (Ilion Editions). It is also a scathing account in which she severely scratches the health professionals who did not listen to her and therefore did not treat her.
Her first symptoms, she felt them on March 20, 2020. She is still not cured to this day. "I am certainly fighting a battle against the disease that has been going on for more than 16 months, but above all, I want to help other patients in this health crisis."
"Medically mistreated"
Annabelle is 38 years old. She was very athletic (basketball/volleyball) and in very good health. During the first four months of her illness, she thought she was "literally dying," she says. I was medically mistreated, to say the least. I was told it was all in my head, that I was depressed and that I didn't have the Covid.
Then, one day, through research and reading, she found a doctor, 6 hours away from her home, who listened to his patients, who looked with them for what was wrong. "An Einstein of medicine" she says. The doctor who received her made her diagnosis after a battery of tests: it was a long Covid. She is finally taken care of.
A psychological disaster
Annabelle leads a real investigation on this strange disease, meets specialists, fights against the received ideas. And she noticed that thousands and thousands of people are like her, all over the world. People talk to them about depression. They are treated as imaginary patients. They are not treated. It revolts her.
Thanks to social networks, thanks to the press, thanks to associations, she establishes contacts between patients. She testifies for them. So that they are recognized as patients and to give them rights like disabled people. It is a worldwide cause, Covid is rampant on all continents.
And then, Annabelle Georges decided to write her book. A first book, very strong, which says everything, even what is annoying.
At the end of the book, a small glossary with numerous scientific and journalistic sources and testimonies of other "long Covid" patients. Annabelle recalls the words of Charlie Chaplin: "A day without laughter is a day lost.
A LIFE OF ENDLESS COVID, ANNABELLE 37 YEARS OLD
Ilion Editions – www.ilion-editions.fr