The Goncourt 2021 is awarded to Mohamed Mbougar Sarr for his novel "La plus secrète mémoire des hommes" (Éditions Philippe Rey).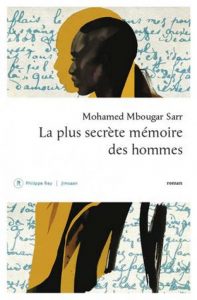 They were four in the running for this Goncourt 2021: Christine Angot, Sorj Chalandon, Louis-Philippe Dalembert and Mohamed Mbougar Sarr. In the end, the jury awarded the most prestigious literary prize to a young Senegalese writer of 31 years, Mohamed Mbougar Sarr, for his novel "La plus secrète mémoire des hommes".
At once a thriller, a philosophical tale, and a historical novel written with a dazzling pen, Mohamd Mbougar Sarr's novel is dizzying, exciting, and often funny.
Face to face between Africa and the West
Here is the summary of the publisher's website: "In 2018, Diégane Latyr Faye, a young Senegalese writer, discovers in Paris a mythical book, published in 1938: The Labyrinth of the Inhuman. We lost track of its author, qualified in his time of "Rimbaud nègre", since the scandal that triggered the publication of his text. Diégane then sets out, fascinated, on the trail of the mysterious T.C. Elimane, confronting the great tragedies of colonialism and the Shoah. From Senegal to France via Argentina, what truth awaits him at the center of this labyrinth?
Without ever losing the thread of this quest that consumes him, Diégane, in Paris, frequents a group of young African authors: they all observe each other, discuss, drink, make love a lot, and wonder about the necessity of creation from exile. He becomes especially attached to two women: the sulphurous Siga, holder of secrets, and the fleeting photojournalist Aïda…
Of a perpetual inventiveness, The most secret memory of men is a dizzying novel, dominated by the requirement of the choice between writing and life, or by the desire to overcome the question of the face-to-face between Africa and the West. It is above all a love song to literature and its timeless power.