"I realized a dream of cinema," says the actress, who plays a prostitute from Strasbourg in Cécile Ducrocq's film, "A Woman of the World", a social drama and film noir.
"I really realized a dream of cinema with you," confided Laure Calamy to the director Cécile Ducrocq, at the Deauville Festival where "A Woman of the World" was selected (released on December 8). In this film, the energetic actress with a pointy nose plays a prostitute who struggles to pay for a prestigious school for her teenage son who is failing. A "tragic-comic" role, far from the comedies in which she excels, including "Antoinette in the Cevennes", a hike with a donkey for which she received the César for best actress, or the series "Ten Percent" (Cécile Ducrocq was in the pool of writers), which has just won the award for best comedy at the International Emmy Awards.
Laure Calamy plays Marie, officially a home hairdresser, who works from home but does not practice hairdressing. Her son (played by Nissim Renard) is a 17 year old wanker who is on the verge of going bad. To get him back on the right track, Marie wants to get him into an expensive private cooking school. In order to raise the 9,000 € tuition fees, she walks the streets of Strasbourg during the day, and goes to show "the most beautiful legs of Alsace-Lorraine" at night in a brothel in Offenburg, Germany.
Shot with the help of the Grand Est Region, partly in Mulhouse, "A Woman of the World" takes place in Strasbourg, notably in front of the European Parliament where Marie and her sex worker friends are demonstrating. "I wanted a border city, because in Germany prostitution is regulated, there are brothels, and because there is the Parliament of Strasbourg too, I wanted it to be a winter film and there was snow," says Cecile Ducrocq.
With a detective story and film noir atmosphere, "A Woman of the World" does not escape the gloomy world of prostitution; it is a social drama but it is above all the portrait of a woman, formidably played by Laure Calamy, a mother who sacrifices herself for her son, a determined and free woman in spite of the hardship, who at the end dances and sings to Véronique Sanson, and returns to the sidewalk of Strasbourg, wrapped in her long golden raincoat.
Meeting with the director and the actress, all dressed in black and short, near Pigalle in Paris, in a former brothel, now a chic hotel, red lamps at the entrance and a hushed atmosphere inside, red velvet armchairs and subdued lighting.
Laure Calamy: "The figure of the prostitute fascinates me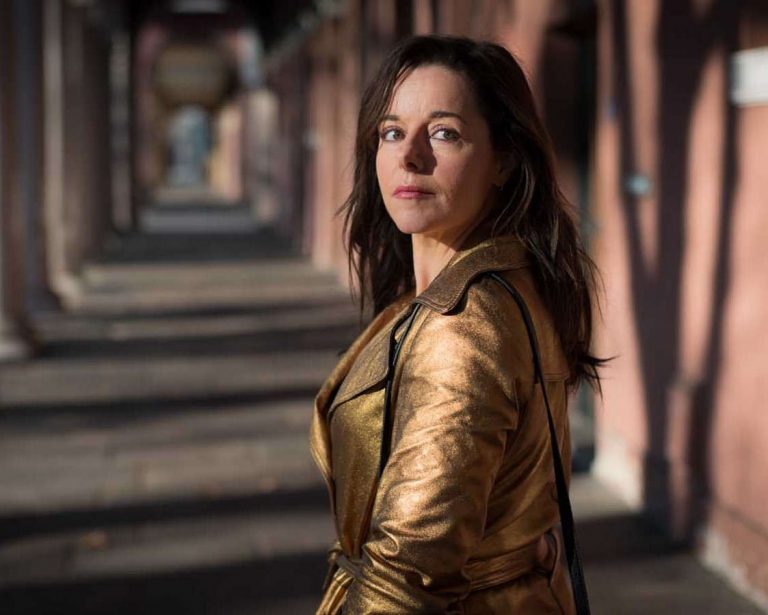 What interested you in this character, in this film?
Laure Calamy: The prostitution part fascinated me, I had wanted to tell it for a long time, there is Cécile's writing, situations to go through, my partner Nissim Renard with whom it was great, things happened between us. I want it to be incandescent, to go to the depths of humanity, nothing scares me or puts me off, on the contrary. Afterwards, I will apprehend my legitimacy at the beginning of the shooting, and at the same time I throw myself into it, at the moment when I play I don't think about it anymore, I get rid of my monsters.
You speak of legitimacy, yet your career has exploded since "Ten Percent"…
It feels good, and then there are times when I don't feel like it's happening to me.
At the Deauville Festival, you talked about the image of the prostitute in cinema, did you also feel attracted to enter this mythology?
It's true that Pasolini's "Mamma Roma" is a film that I saw as a teenager and that impressed me a lot, I had seen "Maîtresse" by Barbet Schroeder, which I also adore. I think that the figure of the prostitute also fascinates me because there is this kind of pomp in which she presents herself, a bit like an armor, a place supposedly of fragility but which in fact is going to be a place of strength, of mastery, it is something that interested me a lot. There is something at the same time of the representation, on the feminine-masculine, and that joined the problematic of the women: I make what I want of my body, and if I want to gain money with it by prostituting myself, it is my most elementary right.
Your character says she is "proud to be a whore", she claims it…
Yes, she doesn't want to leave prostitution, as is often the case in stories about prostitutes. She militates to have more rights, she assumes her profession, she defends it, and she speaks about it freely to her son. Not recognizing that it can be a choice of life, it is to infantilize them, each one can seek reasons for many professions.
Is it a profession that has a social role?
Yes, there is something of the order of care. I am a great admirer of Grisélidis Réal, and she is not the only one to talk about it in this way, there is a sexual solitude, for many clients there is respect, a bond that will last, confidences, smiles, tenderness, softness. Indeed, it also refers to what we are subjected to in our sexuality, for men as well as for women.
During the César ceremony, you mentioned the "little provincial" that you were, do you see this César as a form of recognition?
Of course, it is a recognition, an encouragement. In addition, the film we made with Caroline Vignal is a film I loved, I am delighted. What touched me, precisely in my speech I speak about me, the provincial who was able to go to an independent cinema, the Carmes, to the CDN of Orleans, there was a rich theatrical proposal in proportion to the size of the city of Orleans, and the returns really touched me, in particular the director of the CDN to whom they wanted to take away half of the subsidy and with my speech they did not do it, what is the point of this!
Cécile Ducrocq: "Neither miserabilism nor glamour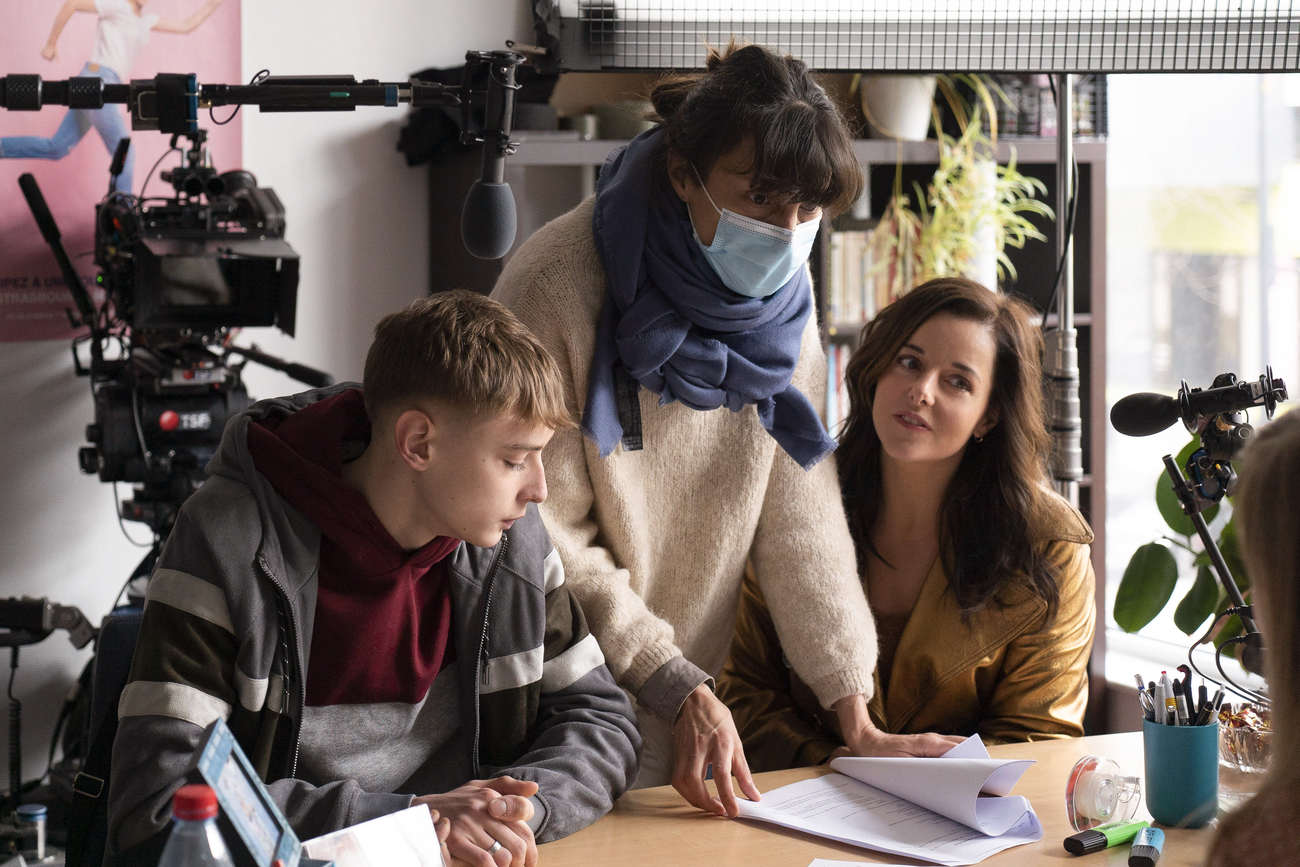 You directed "La contre-allée" (César for the best short film), in which Laure Calamy already played a prostitute, "Une femme du monde" is an extension of that?
Cécile Ducrocq: When we made this short film with Laure, we met prostitutes, including one called Marie-France who works on rue Saint-Denis in Paris, with a photo of her son above her bed. It's an image that marked me, it was quite a strong encounter, and from there, the desire to work again with Laure, to take the character further, and to give her a son, the imagination took over and I invented this story of a normal woman who raises her son normally, and who has this particularity of being a prostitute, who has a job like no other but she claims it and chooses it.
The image of the prostitute has been used a lot in cinema, what was your line?
What was important was not to fall into miserabilism and the super gloomy, nor to glamorize it a bit like Verhoeven. There is always a moral look, but it is necessary to draw a very clear line between the free prostitutes who chose this profession and obviously those who are with a pimp, that has nothing to do with it. It is hard to imagine that women are so free that, for them, not selling their body but renting it, is completely possible. We imagine that the prostitute is submissive, but most of the time she is not, the clients are intimidated and it is she who leads the dance, when of course, it is consensual.
Did you do any documentation work before writing?
I need realism, I need to have points of support for the fiction that are absolutely necessary, to document beforehand, to meet people, because I can't imagine everything. I went to brothels to see how it was, how it was organized, and to talk to some girls. In brothels, there is everything, there are girls who are free and girls who are less free. The problem is that there is an appearance of freedom, they have protection but they rent the place.
The character of Marie is rather free…
She's not a victim, but she's a character who makes a lot of mistakes, Marie, she's a little stubborn, she steals money, she blackmails, she's so willful, she has blinders on and she doesn't see that it's not worth going to a brothel to save her son. She has no guilt except for her son.
Interview by Patrick TARDIT
"A Woman of the World", a film by Cécile Ducrocq with Laure Calamy (released on December 8).