Telling the daily life of a mother and her daughter, this Japanese animated film is as funny as it is touching.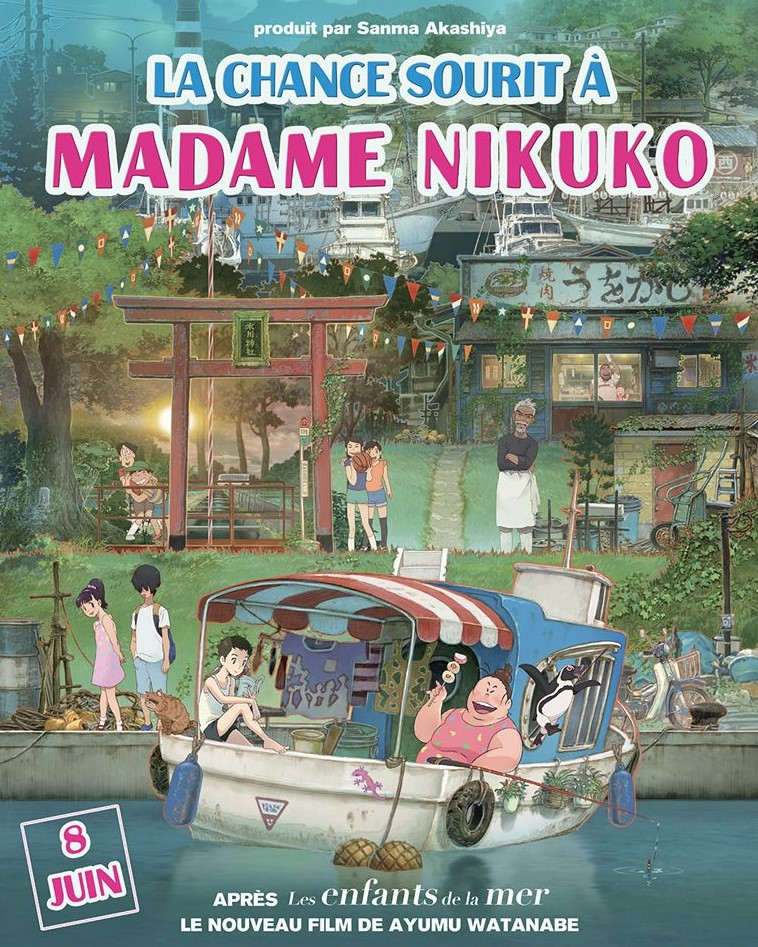 She looks a bit like Totoro, Madame Nikuko, and she enjoys it. An animated and drawn character, like Miyazaki's creature, Madame Nikuko is all roundness, bonhomie, and good humor. Hence the title of the animated film that traces her destiny, "Luck Smiles at Madame Nikuko" (released on June 8), conceived by Japanese director Ayumu Watanabe (who created "Children of the Sea") and adapted from a novel by Kanako Nishi.
Exuberant and plump, Mrs. Nikuko has a daughter, Kikurin, discreet and slim; they don't look alike at all, and even if Kikurin adores her mother, she doesn't want to look like her. She is 11 years old, skinny and short-haired, but she is the more mature and vigilant of the two. The greedy Mrs. Nikuko has a good heart, a too big heart, people in general and men in particular abused her kindness. After several misadventures in love and as many moves, she arrived with her daughter in a small fishing town, a port by the sea. There, they live in a boat docked at the wharf, and Mrs. Nikuko works in a grilled meat restaurant, where the chef and customers appreciate her joie de vivre.
Kikurin reads Salinger's Catcher in the Rye, plays basketball with her school friends, and tames a shy classmate who makes faces and a model in great secrecy. And then she looks into her mother's past life, and into her own, trying to unravel the heavy secret of this little family. After the mother, the daughter becomes the center of this film with precise and realistic settings and landscapes, while it is with a naive and colorful graphics that are drawn its endearing characters.
Produced by Studio4°C, whose adventures of "Poupelle" will soon be seen in "De l'autre côté du ciel" (August 17), this animated film is as amusing as it is touching. "Luck smiles on Mrs. Nikuko" and Mrs. Nikuko smiles on life, impervious to the vagaries and indelicacy. This story of the daily life of a daughter and her mother, once unlucky but always joyful, is filled with delicacy and human warmth.
Patrick TARDIT
"Luck Smiles at Mrs. Nikuko", a film by Ayumu Watanabe (released on June 8).