Ana de Armas is extraordinary as Marilyn Monroe, but Andrew Dominik's film (coming soon to Netflix) is a tragic whirlwind that traces the drama, humiliation and violence suffered by the most photographed woman in the world.
In a memorable sequence of the last James Bond movie, "Dying Can Wait", Ana de Armas played a spy who teamed up with Agent 007. In "Blonde" (available on Netflix from September 28), a film by Andrew Dominik, the actress plays an icon, a legend, Marilyn Monroe. The brunette Latina has been transformed into a blonde with blue eyes, imitating the look, gestures, voice, of the most famous of blondes.
Previewed at the American Film Festival in Deauville, where Ana de Armas received a Hollywood Rising Star Award and where Andrew Dominik presented his western "The Assassination of Jesse James by the Coward Robert Ford", "Blonde" is not a classic biopic, it is a fiction far from the glamorous image of the smiling star of Hollywood, a real black novel that traces the dramas, humiliations and violence suffered by the most photographed woman in the world.
More than Marilyn, it is Norma Jeane Baker (her real name) that Ana de Armas plays in this adaptation of the book by Joyce Carol Oates: "I am the slave of this Marilyn Monroe (…) It's not me, I'm not a star, I'm just a blonde," says the actress. Marilyn smiled a lot, Norma Jeane cried a lot. Norma Jeane does not want to play Marilyn anymore, a creature that exists only on the screen for 500 dollars a week. The film insists on this great misunderstanding, this irreconcilable gap between the image of this blonde and what she really is, intimately.
Disturbing reconstructions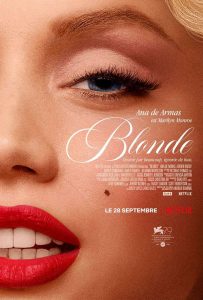 First of all, an unloved child of her alcoholic, neurotic and finally institutionalized mother (Julianne Nicholson), placed in an orphanage, rejected, traumatized, abandoned by her father whom she will always seek (calling the men in her life "daddy"). A wife unloved by her husbands, the champion Joe DiMaggio (Bobby Cannavale) and the writer Arthur Miller (Adrian Brody). A woman humiliated, exploited, beaten, raped, abused including in a ridiculous sequence with John Fitzgerald Kennedy.
Sometimes filming in the very places where she lived, Andrew Dominik has reconstructed, in an identical and disturbing way, famous images, sequences known to all, the car of "Some Like It Hot", the stairs of "Men Prefer Blondes", the shooting of "Seven Years of Reflection", with the mythical white dress rising above a subway mouth.
Ana de Armas is an exceptional presence in the skin of this "Blonde", a very "manufactured" film, with many effects of realization, an alternation of sequences in color and images in black and white, the elegant music of Nick Cave and Warren Ellis, an exploded narration to respect "the hallucinatory nature of the novel". But this film is a story of great sadness, a tragic and pitiful whirlwind, a pathetic accumulation of Marilyn's many misfortunes, of her painful and funny life, so much so that we are finally stunned. And haunted by the last image, a woman dead on her bed, in August 1962.
Patrick TARDIT
"Blonde," a film by Andrew Dominik, starring Ana de Armas (available on Netflix starting September 28).