The SAS Cicero which publishes the online media https://infodujour.fr/ has just put online on Amazon a collection of the main censored articles of Jean-Marc Sabatier. 353 pages. Now available in English and Spanish.
It is difficult to be published by the general press when you are a high-level scientist whose discoveries do not suit the political and health authorities. This is the case of Jean-Marc Sabatier, research director at CNRS, holder of a PhD in cell biology and microbiology who, in March 2020, described for the first time the mode of action of the SARS-CoV-2 virus. This atypical mode of action will be confirmed over the months by the work of various research groups around the world. He suspected early on that messenger RNA (mRNA) vaccines could "trigger deleterious physiological responses following an interaction of the vaccine protein with one or more of its receptors".
The unbearable censorship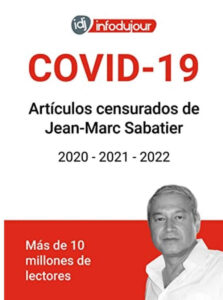 In three years, infodujour.fr has published nearly eighty articles by Jean-Marc Sabatier. His demonstrations have found their audience composed mainly of doctors and scientists. In July 2022, more than 3.2 million unique visitors followed his explanations on infodujour.fr. More than 10 million in total over three years.
This displeased them. The Inquisition started. A fact-checking of the AFP even allowed itself to question the competence of the scientist. But the rabbit-skinned auditor was not up to the task. His demonstration was bogus, as we have shown.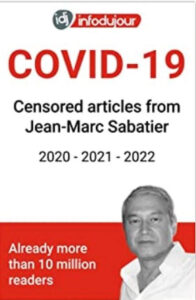 In August 2022, Google but also several social media simply censored infodujour.fr and the articles of Jean-Marc Sabatier. This probably bothered the political and health authorities.
This takeover of global information by the digital giants to serve financial interests is unbearable. It prohibits reflection, controversy, and exchange between professionals on issues that affect what we hold most dear: health.
Science is not fixed
We believe, on the contrary, that only the scientific debate allows science to come out of obscurantism. Science is not fixed. It is constantly evolving. Since Thomas Samuel Kuhn, philosopher of science, we know that scientific progress is not a cumulative process, but proceeds on the contrary by changes of paradigms. In other words, scientific thought is reorganized around new axioms. This is why it seems essential to us to republish the censored articles of Jean-Marc Sabatier, without retouching them, in chronological order, from the beginning of the year 2020 until today.
Spanish
Spanish
We want to pay tribute to the clear-sightedness and constancy of a scientist who, for three years, wanted to show the way to all those who, not having his level of competence, were lost in the fog of a new pathology. We also want to pay tribute to a scientist who was discredited by the ill-intentioned media.
We republish this collection in the name of healthy scientific controversy. And in the name of a certain idea of the freedom of the press.