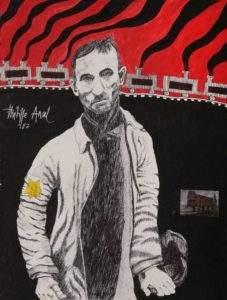 The International Day of Commemoration in Memory of the Victims of the Holocaust was established to commemorate the liberation of the Nazi camp of Auschwitz.
The United Nations encourages States to promote educational projects, to protect places of memory related to the Shoah and to perpetuate the memory of the Holocaust in order to prevent the recurrence of such a crime against humanity. Nancy is known for her humanistic values and her ongoing struggle against all forms of hatred. She participates in the transmission of memory. She therefore joins forces with the Jewish Community of Nancy and the Jewish Cultural Association to invite the people of Nancy to commemorate the 75th anniversary of the liberation of the Nazi camp of Auschwitz with the exhibition "Regards d'absence" proposed by the painter Philippe Ancel.
The opening of the exhibition "Regards d'absence" will take place on :
Monday, January 27, 2020 at 5:00 p.m.
in the Great Hall of City Hall
in the presence of Philippe Ancel, Painter
(Entrance Place Stanislas)
"My painting subconsciously responds to an injunction to tell what happened in the distant and more recent past.
My drawings are the concern to preserve the memory of previous generations in order to save it from oblivion, worse, silence and negation.
Grain of sand… I have tried to pass on to the new generations.
Zakhor, remember! »
Philippe Ancel
This exhibition will be open to the public from Monday 27 January to Friday 14 February 2020 during the opening days and hours of the Town Hall, from 8am to 5pm non-stop. Entrance rue Pierre Fourier.
The systematic extermination of Jews by Nazi Germany cost the lives of 6 million Jews, i.e. 2/3 of the Jews in Europe and 40% of the Jews in the world during the Second World War. Among these 6 million victims, at least 960,000 died in Auschwitz Camp, the largest concentration camp complex of the Third Reich, both a concentration camp and an extermination camp, located in Poland annexed by the Nazis about 50 kilometers west of Krakow.
At Auschwitz, at least 70,000 non-Jewish Poles, 21,000 Gypsies, 15,000 Soviet prisoners of war, several dozen homosexuals and 15,000 other Soviet, Czech, Yugoslav, French, German, Austrian, Belgian and Dutch prisoners also died. In total, between 1.3 and 1.5 million human beings were deported there between 1940 and 1945.
The Auschwitz camp was liberated on 27 January 1945. The Red Army entered the camp at about 3 p.m. after fighting that left 66 Soviet dead. 7,000 deportees were kept in the camp and survived until liberation. Soviet soldiers discovered on the spot about 600 bodies of detainees, executed by the SS during the evacuation of the camp or died of exhaustion.
The recent news of terrorist, xenophobic, anti-Semitic or homophobic hate crimes reminds us of the importance of all manifestations of the duty to remember.