The eventful life of The Maid is well known. Yet it lasted only a little over two years.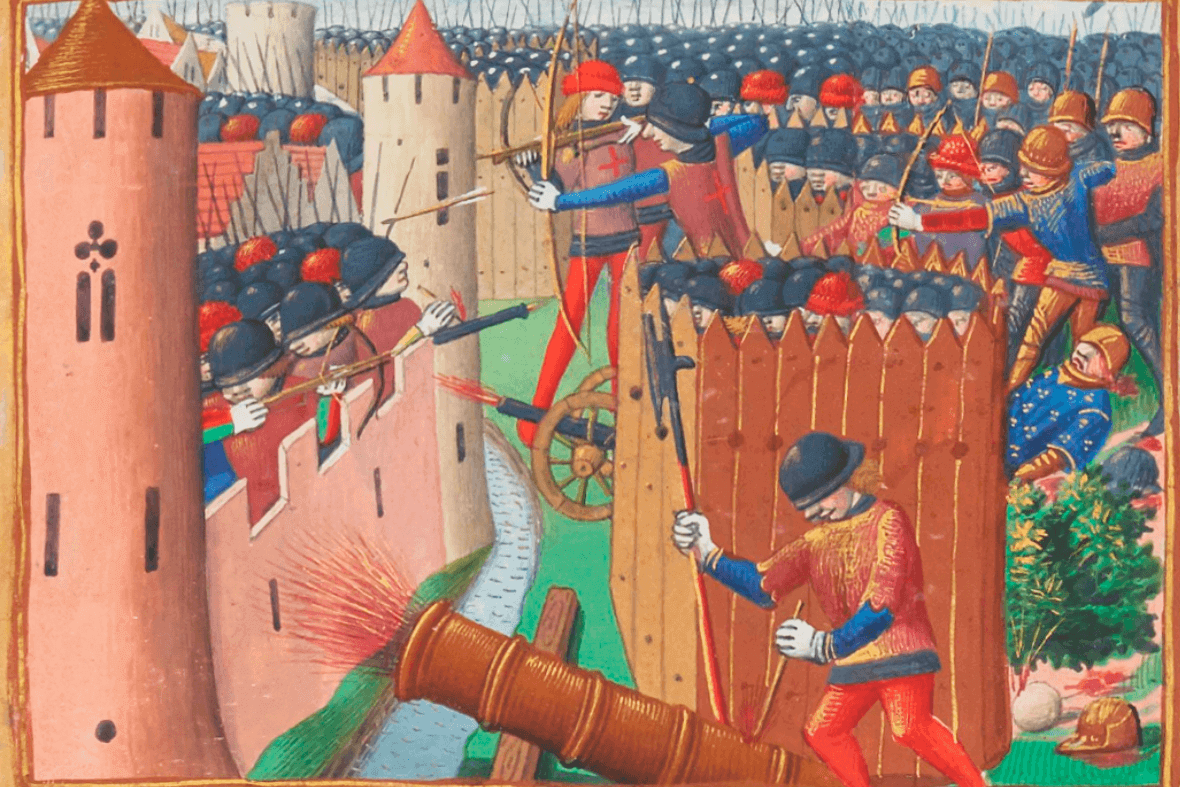 When he died on 31 October 1422 in Paris, Charles VI left a devastated kingdom. The war against England, which began in 1337, wreaked enormous havoc in the cities and in the countryside where famine was rampant. The elite of French chivalry was decimated at the Battle of Azincourt on October 25, 1415. Only teenagers remained on the battlefields to fight the enemy. Their names were Gilles de Rais, Charles d'Albret, Jean, Bastard d'Orléans, la Hire, Xaintrailles, Jean d'Alençon. They are the brothers-in-arms of Jeanne la Pucelle.
Why this war that never ends? The Treaty of Troyes of 1420 provides that the kingdom of France is handed over to the little king of England, Henry VI, French by his mother, Catherine, and English by his father, King Henry V. But Charles de Valois refused to cede the crown of France to his nephew. His mother-in-law, Yolande d'Aragon, does not want this treaty to be applied either. Yolande is a Valois, a true patriot, as we would say today.
In fact, since 1422 there have been two kings of divine right, Charles and Henri, who both claim to be King of France. It is therefore up to God to decide. Jeanne will be his messenger.
Jeanne runs a spear
1428. On Domrémy's side, a young girl claims to be taking orders from Heaven. She wants to go to King Charles, who holds court in Chinon. Jeanne presents herself to Vaucouleurs for the first time: she is rejected by the captain of the place, the robust Robert de Baudricourt.
She presents herself a second time in Vaucouleurs a few weeks later. But this time she is listened to. Better: she is called to the court of Charles of Lorraine.
Jeanne went to Nancy with one of her cousins. On this occasion, she meets René d'Anjou, the future Good King René, future Duke of Lorraine and Bar, son of Yolande d'Aragon.
Jeanne is invited to run a spear. She demonstrates her riding skills. The best riders are "esbaillis". Duke Charles is captivated by this girl from the land of Barrois. He offers her four gold coins and a superb black horse for her journey to the king. The old Duke of Lorraine, having learned of Joan's supernatural powers, also makes a curious plea to her. He asks her to intercede on her behalf with God to help her recover. La Pucelle will advise him to take a little less care of his young and beautiful mistress, Alison du May, and a little more of his wife.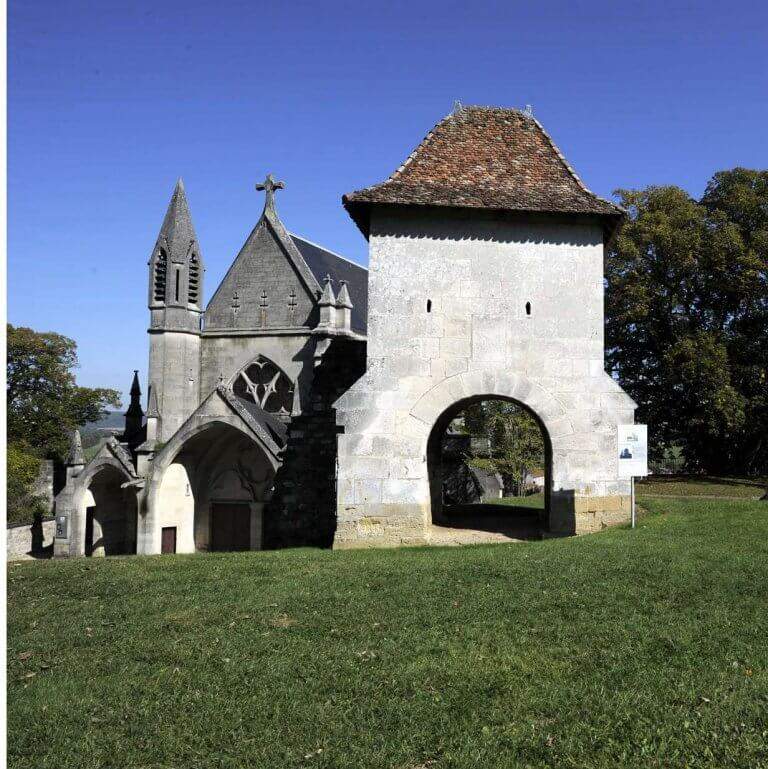 February 13, 1428. On her return from Nancy on Burgundy Sunday 1428, Jeanne was finally authorized to leave for Chinon with a small troop led by Colet de Vienne, an officer of the King.
After 11 days of travel, Jeanne and her companions arrived in Chinon. She meets the King for the first time. She recognized him "thanks to his voices" among her courtiers. "She made the bows she was accustomed to make to kings as if she had been fed at court," says the chronicler Jean Chartier, historiographer of Charles VII.
On that day, Joan confided to the king a secret that, six centuries later, we still do not know. But from that moment on, Jeanne was treated like a true princess of blood. She is housed in the Tour du Coudrai where the last Templars were held. The highest dignitaries of the kingdom come to consult her. The ladies of the court are at her service.
However, Jeanne has not yet accomplished any military feats.
Could this welcome be reserved for a simple peasant woman at the beginning of the 15th century?
The psychological weapon
Jeanne wants an army. She wants to fight the English. That's her God-given mission. Can she afford to fight the English and their fearsome longboats? I suppose so. Because Joan has a weapon even more formidable than bows and bombs: psychological weapons. God is on her side, St. Michael, the leader of the heavenly militia is her adviser. Who can doubt it? Jeanne is going to perform miracles, many prophecies have been announcing her coming for years…Marie Robine, Elizabeth of Hungary, and even Merlin predicted "that a Virgin of the forest of the Oaks (the oak wood of Domrémy) would ride against the back of the archers (the English)"….
Jeanne is galvanizing the troops. She was announced by Dunois, the bastard of Orléans, on 12 February 1428 (Herring Day) in besieged Orléans. She is awaited as the messiah. She will first save the city and then the kingdom of France as Jesus saved mankind. Like him she was born in poverty, like him she speaks in parables, like him she performs miracles… Opposite, the English are scared to death. Will the advantage turn in favour of the Francis?
The Book of Poitiers
March 1428. Jeanne is sent by the king to Poitiers before a commission of theologians and learned doctors chaired by Regnault de Chartres, bishop-duke of Rheims. There again, Jeanne was treated as a lady of high birth. She stayed at the home of Jean Rabateau, President of Parliament. It is the doctors of the university and the parliament who come to her home and not the other way round. Jeanne undergoes an examination to verify her virginity under the control of Queen Yolande.
The conclusions of this interrogation, which Jeanne calls "the book of Poitiers" at the trial of Rouen, did not reach us. They would be hidden from the Vatican since Jeanne herself declares that she "said everything" during this interrogation, about all the mysteries surrounding her. "I would like you, who question me, to have a copy of the book which is in Poitiers, provided that it pleases God," she said to her judges in Rouen. A little later she added: "If you were well informed about me, you should want me out of your hands. »
The sword of Fierbois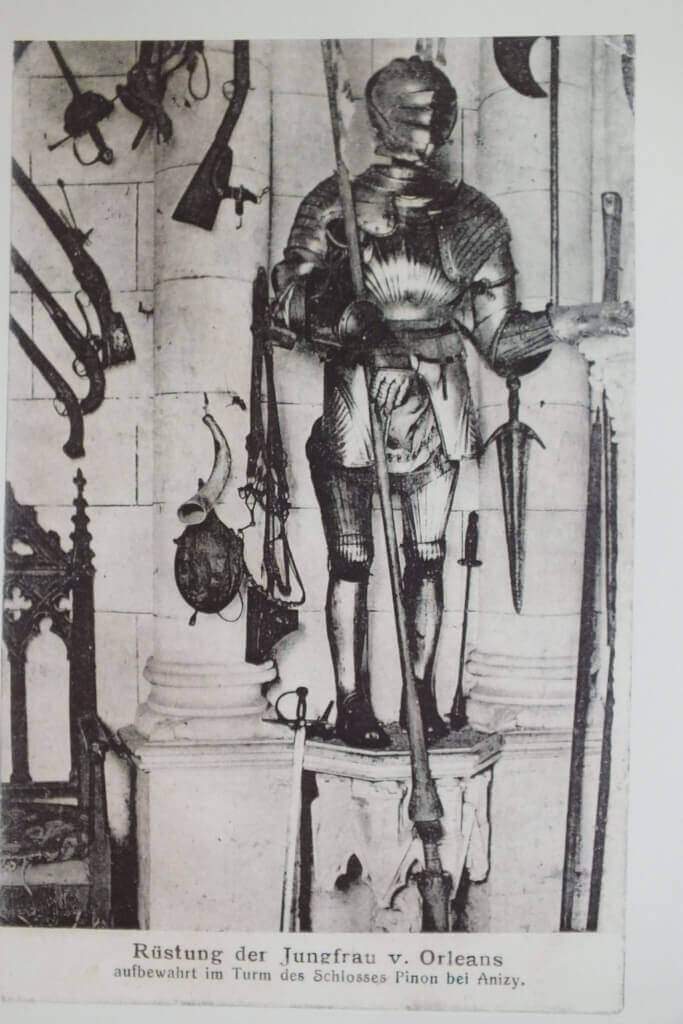 Three weeks after Poitiers, here is Jeanne in Tours with her two companions, Jean de Metz and Bertrand de Poulangy. She gets a superb armour made of 29 pieces of steel struck in the clear. She asks for a sword hidden in the sanctuary of Sainte-Catherine de Fierbois. This sword with magical powers, would have belonged to Du Guesclin and Louis d'Orléans. It is a sword whose blade is decorated with five crosses, like the five wounds of Christ.
Jeanne is finally ready for war. But already, on March 22nd (Tuesday of Holy Week) she decides to send a first letter of commendation to the English asking them to leave the kingdom of France.
The comrades-in-arms
End of April 1429 (the year then began on Easter Day, that year on April 7). La Pucelle and her escort arrive in Blois. There she meets the main characters who will accompany her epic: Regnault de Chartres, Chancellor of France who presided over the Poitiers commission, the lord of Gaucourt, governor of Orleans, Admiral de Culant, Marshal de Boussac, Ambroise Loré… There is also a young man of 24 years old, magnificent on his steed: it is Gilles de Rais, from the house of Laval. Then came Poton de Xaintrailles, a Gascon gentleman, Etienne de Vignolles, known as La Hire, another Gascon captain with memorable angers, Jacques de Chabannes, Lord of La Palice, Antoine de Chabannes, Lord of Dammartin, Arthur de Richemont, Duke of Brittany etc…
Jeanne took the head of this army in charge of accompanying an enormous convoy of food and ammunition for the Orléans. In three days time, La Pucelle will make a historic entry into Orléans, which has been under siege since October. The legend is on the march.
Orléans is liberated
April 29, 1429. Jeanne enters Orleans. Miracle: the winds blow at the right time, the boats can sail up the Loire. She claims that she will not leave until the town of Duke Charles d'Orléans, a prisoner in London from Azincourt, has been freed.
4th May. Capture of the Saint-Loup bastille, one of the ten forts in which the English take refuge.
6th May. Attack on the Augustinian fort. The English are dislodged.
7th May. Attack on the Turrets. Jeanne is wounded above the left breast. She nevertheless went back into action. 60 English are killed, 200 drowned, 600 are taken prisoner.
Sunday 8 May 1429. The English are afraid. They lift the siege without fighting again.
Jeanne is recognized as God's envoy. The Loire campaign can begin. Military victories follow one another.
On June 2, 1429, the king granted Jeanne arms derived from the Family of France, which read as follows: "Azure two fleurs-de-lis Or and in the middle a sword Argent the upper point sheathed Gules embellished Or, the said point passing between a crown in chief also Or. "The King of England will consider it "a great outrage".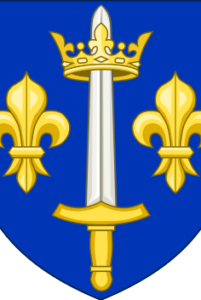 June 11th and 12th. Jargeau is recaptured from the British army. Beaugency capitulates on June 17th, and Patay's turn comes on June 18th.
The coronation ride begins immediately. Jeanne asks the dolphin to set off for Reims where her coronation will take place on Sunday, July 17, 1429, in the presence of Jeanne and her standard. (He was at the sorrow, it was quite right that he was honored) she said.
In a few months, Jeanne's first two missions were accomplished: the lifting of the siege of Orleans and the coronation of Charles in Rheims.
Third mission: to free Paris
September 8th. La Pucelle stormed Porte Saint-Honoré. She is wounded in the thigh. It's a failure. The king no longer entrusts her with his army.
May 23rd, 1430. Jeanne still wants to fight the "Godons". She goes to Compiègne. At the head of her small company, she will attack the English. But she was captured along with her close companions by a man from John of Luxembourg who was fighting on behalf of the Duke of Burgundy Philip the Good. Jeanne will be sold for 10,000 ecus to the English.
From May to December 1430: Jeanne, a prisoner of the Anglo-Burgundians, is tossed from castle to castle. We don't know what to do with her.
December 23rd. Arrival in Rouen where she must appear before an ecclesiastical court. It is a trial on matters of faith: Jeanne is prosecuted for witchcraft. But it is also a political trial: Jeanne's conviction will be a response to the coronation of Reims and, in the wake, will put the Treaty of Troyes back on the agenda.
January-May. The trial lasts five months under the presidency of Bishop Cauchon and the vice-inquisitor Graverent.
Unsurprisingly, Jeanne is condemned to be burned at the stake at the end of a trial. But a rigged trial. Of the 55 sessions, 17 were devoted to the Voices. All the judges (except one) were French.
Wednesday, May 30, 1431. In the square of the Old Market in Rouen, 800 men-at-arms with swords and sticks were waiting for Jeanne-la-sorcière. The woman who climbs up to the pyre has her face "embronché", i.e. veiled, hidden. No one can therefore recognize the woman who is burned that day.
On that fateful day in May 1431, Jeanne's public life was over. La Pucelle did not fulfil the other missions that her voices had assigned to her, notably that of driving the English out of France and that of freeing Charles of Orleans, the prince-poet, who had been a prisoner in London from Azincourt. The Hundred Years' War did not end until 17 July 1453 with the Battle of Castillon.
If King Charles VII was then well installed on the throne of France, he still owes it to this daughter of the Barrois, Jeanne la Pucelle. This is why in 1456 he wanted Jeanne's memory to be rehabilitated in a trial for the nullity of a conviction, just as rigged as the first one. The 126 witnesses are (almost) all false witnesses.
Was Jeanne really burned in Rouen? One can seriously doubt it since she reappears, in flesh and blood, on May 20, 1436 at the Grange aux Ormes, near Metz. And that her life is perfectly documented.
(To be continued: La Pucelle returns five years after the pyre 5/6)
Letters from Jeanne
Nineteen are known to us, five have come down to us and three are signed by her hand.
No, Jeanne was not that illiterate, uneducated girl from our history books. On the contrary, she was highly educated. "As if she had been fed at court," says Jean Chartier, the king's historiographer. "As if she had been brought up not in the fields but in the schools of the great prud'homie," says another chronicler.
We know Jeanne and her character through her response to the judges of Rouen. But also by her letters. Nineteen are known to us, five have come down to us and three are signed by her.
The first known letter of Jeanne is the one she wrote to the English on the Tuesday of Holy Week, that is to say on March 22, 1429.
"Jesus Maria,
King of England and you Duke of Bedford, who you say are regent of the kingdom of France, you William de La Pole, Earl of Suffolk, John Sire of Talbot and you Thomas Sire of Scales, who you say are lieutenants of the said Duke of Bedford, do right to the King of Heaven, give back to the Maid who is sent here by God, the King of Heaven, the keys of all the good cities that you have taken and raped in France. She has come here from God to claim royal blood. She is all ready to make peace, if you will make her right, by abandoning France and paying for what you have held her.
And, all you archers, fellow-warriors, gentlemen and others who are before the city of Orleans, go away to your country, by God; and if you do not do so, wait for news of the Pucelle who will come to see you shortly, to your property great damage. King of England, if you do not do so, I am a warlord, and wherever I wait for your people in France, I will make them go, whether they like it or not. And if they will not obey, I will have them all occified; I am here sent by God, the King of heaven, to drive you out of all France. And, if they will obey, I will take them in mercy. And have no other opinion, for you shall not hold the kingdom of France from God, the King of heaven, the son of St. Mary, but King Charles, the true heir: for God, the King of heaven, wills it, and this is revealed by the Maid, who will enter Paris in good company.
If you do not want to believe this news from God and the Virgin, wherever we find you, we will knock on it and make such a great hahay there that it would have been so great a thousand years ago in France if there had not been such a great hahay, if you do not agree with us. And believe firmly that the King of Heaven will send more forces to the Virgin than you can lead her with all your assaults, to her and her good men-at-arms; and to the horions, we shall see who has the better right of God in Heaven. You, Duke of Bedford, the Maid prays and demands that you will not be destroyed. If you prove her right, you will still be able to come in her company where the French will do the most beautiful thing that was ever done for Christendom. And make answer, if you want to make peace in the city of Orleans; if you do not do so, of your goods great damage that he will soon remember you.
Written this Tuesday, Holy Week. »
Jeanne and her voices
The doctors of theology and other scholars who questioned Jeanne at the Rouen trial had serious doubts about the heavenly origin of the voices, since of the 55 sessions, 17 were devoted to voices. Here is what Jeanne answers them.
Jeanne was questioned on February 22, 1431. Me Jean Beaupère asks Jeanne :
-When did you begin to hear the voices? -When did you begin to hear the voices?
-I was thirteen years old when I had a voice from God to help me behave well. The first time I was very afraid. That voice came at noon hour during the summer in my father's garden.
Me Jean Beaupère continues:
-Whose side did you hear the voice from? -That of my father.
-I heard this voice on the right, on the side of the church, and rarely did it come to me without being accompanied by great clarity. This clarity comes from the same side as the voice… When I came to France, I often heard the voice….
-What was the voice like? -How was the voice?
-It seems to me it was a very noble voice and I believe it was sent to me by God. The third time I heard it, I recognized that it was the voice of an angel. It has always kept me well.
-Were you able to understand her?
-I always understood her well.
-What kind of voice was it? -What kind was it?
-You won't know more about that today. -I don't think you will.
-How often did the voice speak?
-Two or three times a week she exhorted me to leave for France. -Two or three times a week?
(…)
-Tell us by what advice do you take the man's habit? -What advice do you take?
-Go over it! -Go over it!
-But answer me! -Give us an answer!
-Step aside! -Step aside!
On Saturday, February 24, 1430, sixty-two assessors sat next to Bishop Cauchon. They want to get to know the accused who is there before them. This young woman in her twenties, dressed as a man, who is standing up to them, answers them boldly. They've never seen anything like it. One of the assessors asks:
-When was the last time you heard the voice coming at you? -When did you hear it?
-I heard it yesterday and today. -Yesterday and today.
-At what time yesterday did you hear it? -Yesterday, when did you hear it?
-Yesterday I heard it three times: once in the morning, once at Vespers, and a third time at the Hail Mary in the evening. Sometimes I hear it even more often.
-What were you doing yesterday morning when the voice came?
-I was asleep and I was woken up.
-Did she wake you up by touching your arm? -Yes, she did.
-She woke me up without touching me. -She woke me up without touching me.
-Was the voice in your room?
-No, as far as I know, but it was in the castle. -Yes.
(…)
-What did she tell you? -What did she say?
-She told me to answer boldly. -She told me to answer boldly.
-Did the voice say a few words to you before she was summoned? -Yes, it did.
-The voice said a few words to me, but I didn't understand them all.
-Did the voice forbid you to say everything?
-I won't answer you on that. I have some revelations concerning the king that I will not tell you.
-Did the voice forbid you to say any revelations? -I will not answer that.
-I have not been advised on that. -I have not been advised on that. Give me a fortnight's time, and I will answer you.
(…)
-Does the voice come from God? -Yes.
-Yes, and by his ordinance. I firmly believe it as I believe in the Christian faith and that God has redeemed from the pains of hell.
-Is the voice that you say appears to you an angel or God immediately, or a saint? -Yes, it is.
-This voice comes from God. -This voice comes from God.
-Explain yourself.
-I don't think I'm telling you fully what I know. -I don't think I'm telling you fully what I know. I am more afraid of failing in saying something that displeases these voices than I am of answering you. As for your questions about my voice, I am asking for a delay.
-Do you think it displeases God that we should tell the truth? -Yes, it does.
-The voices told me to reveal certain things to the king and not to you. -I don't think so. That very night the voice told me many things for the good of my king.
(…)
-Why does the voice no longer speak to the king now as it did when you were in his presence?
-I don't know if it is God's will… -I don't know if it is…
-Did your advice tell you that you'd escape from prison? -Yes, it did.
-I don't have to tell you that.
(…)
-With the voices, do you see anything else? -With the voices, do you see anything else?
-I'm not going to tell you everything. I'm not off duty. Besides, give me in writing the points I'm not answering now.
-Does the voice you're asking for advice have a face and eyes? -Yes.
-You won't get that from me yet. -Yes, it will. It's a saying of little children that people are sometimes hanged for telling the truth.
(…)
Saturday, February 27, 1430. Fourth public interrogation. Fifty-three assessors surround Bishop Cauchon. The story of the voices intrigues the judges very much. Jeanne is asked:
-Since Saturday, have you heard the voice?
-Yes, really, several times.
-Saturday, at the hearing, did you hear the voice?
-It's not from your trial. -It's not from your trial.
-It's from the trial, answer me! -It's from the trial, answer me!
-I heard it. -I heard it.
-What did she say to you that Saturday? -What did she say to you?
-I couldn't hear her very well, or anything I could tell you until I got back to my room. -I'm sorry, I'm sorry.
(To be continued: La Pucelle returns five years after being burnt at the stake 5/6)