The next edition #GEMAB21 is scheduled from July 23rd to August 1st 2021 on the Chambley aerodrome (Meurthe-et-Moselle / Lorraine / Grand Est).
In 2020, almost all ballooning meetings worldwide could not take place and were postponed to 2021. The Grand Est Mondial Air Ballons, the largest international hot-air balloon gathering in the world, takes place at a biennial rhythm in odd-numbered years. But it requires almost two years to prepare. It's a real bet on the future!
The next edition #GEMAB21 is scheduled from July 23rd to August 1st 2021 on the Chambley aerodrome (Meurthe-et-Moselle / Lorraine / Grand Est).
Ten days of aerial festivities that will bring together 3,000 pilots and air crews from all over the world, more than five hundred thousand spectators and 200 partners from companies, local authorities and institutions.
Pilots' registrations opened on 23 July. And the extra-national balloonists were the first to respond to the invitation. Already many Germans, Belgians, English and even Americans have registered.
The biggest in the world
Of course, for pilots who live in regions beyond the seas, it is necessary to plan their travel well in advance. Transport of their balloon by plane or boat, customs, plane tickets, car rental on arrival for the transport of the balloon, booking of accommodation, etc. For a balloonist coming from Los Angeles (USA), the cost for 10 days exceeds 15,000 €uros, a large part of which is consumed in the region. The organisation takes care of breakfasts, logistics and above all the supply of propane.
The direct, indirect and induced economic spin-offs of over 30 million €uros mean that the event has long since extended beyond the French borders. The European audience among the participants in the contest to win a hot-air balloon flight every month and among the customers of the first flight ticketing proves it.
The heavy technical and promotional "machine" started up in October 2019 so that everything would be ready on 23 July 2021. In ten months' time, at Chambley airfield (Meurthe-et-Moselle / Lorraine / Grand Est) a huge balloon village will be born for the 17th edition, a real ray of sunshine to forget 2020.
For the territory of the Grand Est region, #GEMAB has become a leading institution in the attractiveness of the area. The appointment gains a huge hit for more than 30 years.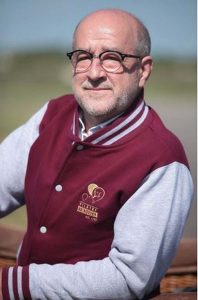 Philippe Buron Pilâtre, better known by his initials PBP, a lawyer by training, spent a large part of his career at Agence France Presse before embarking on events management.
Consultant for many clients in the fields of tourism, politics, digital and aeronautics, he is a member of the Economic, Social and Environmental Council of Grand Est Region (since 2001), expert at the Economic and Social Committee of the Greater Region.
Since 2001, he also teaches at the University of Lorraine (CEU, IAE, IUT) courses in the areas of creativity, networks, digital, crisis communication, event marketing, lobbying). He had been speaker at the French "Ecole Nationale d'Administration" from 2001 to 2014 in crisis communication.
Balloon pilot and instructor, he accumulated more than 2.000 flying hours on both gas and hot air balloon.
He founded Grand Est Mondial Air Ballons and coordinated various events (motor racing, digital, cinema, culture, tourism). He has written about fifteen books and regularly works as a journalist for radio, television and print media.
He is a recipient of Aeronautics Medal, Youth & Sports Award and that of Charles Dollfus.