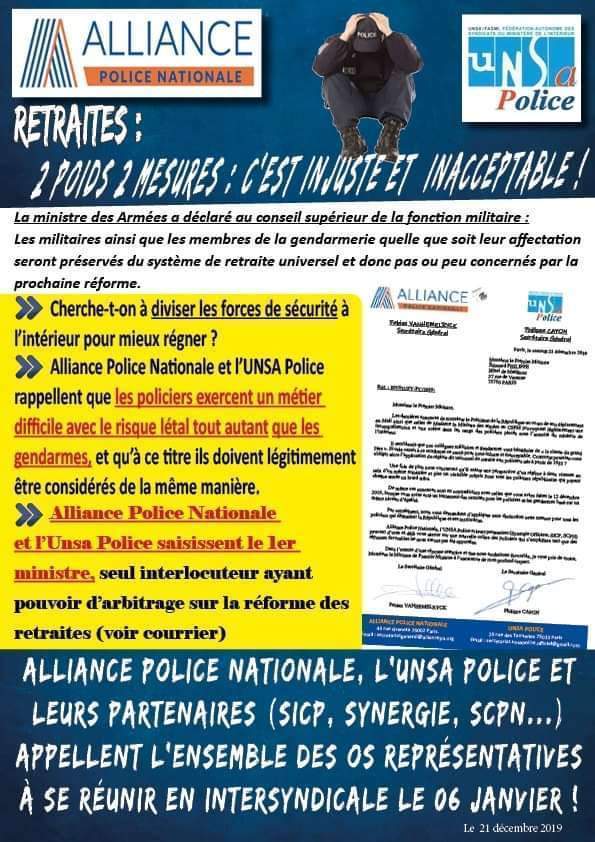 UNSA and Alliance Police are calling for the alignment of the retirement of police officers with that of gendarmes.
In a letter from Christophe Castaner that we published, the police officers said they were satisfied that they had been able to keep their special pension scheme. Today, the UNSA-Police notes that the gendarmes benefit from a specific regime.
In a press release, UNSA writes: "A week ago the Minister of the Interior, in a letter addressed to the police unions, outlined the first outlines of the pension reform applicable to all police officers without distinction, mentioning the implementation of a substitution plan for both the police and the gendarmerie.
Today information is circulating on a specific scheme that could be applicable to gendarmes.
UNSA Police notes that the gendarmes have always been aligned with the allowances obtained by the unions representing police officers, including UNSA Police.
The most recent advances being the increase of the IJAT (daily allowance for temporary absence), the protocols 2016 and 2018…consequently UNSA Police will not accept to be treated differently on the subject of pensions and calls for the coherence of the government on this subject.
UNSA Police asks for the alignment of our police pensions with those of the gendarmes. UNSA Police demands that the "grandfather clause" that could be put in place for gendarmes should also be put in place for police officers and more broadly for all the officers of the Ministry of the Interior.
Consequently, while awaiting clarification, vigilance is required and action will be the only response to the inconsistencies that we could be victims of.