An innovative Nancy-based company, Harmonic Pharma, is working on repositioning existing drugs to treat Covid-19. Several molecules have already been selected. Explanations with Dr Sinan Karaboga.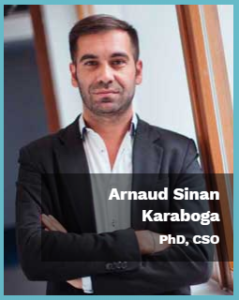 How does a researcher live confined to his apartment?
It is important to be confined and to respect the barrier signs recommended by the government in order to avoid the number of infections and to allow hospitals to manage the large number of seriously ill patients in intensive care. As a result, at Harmonic Pharma, all employees are teleworking, also for their own safety. Fortunately, I am very busy during the day with my work and I allow myself some breathing time in the evening to take a short walk and also to call my loved ones.
-How do you currently work, alone or in relation with your colleagues and your company?
I am in daily contact with my colleagues and our engineers thanks to modern communication technologies. Whether by telephone or video-conferencing, we continue to exchange and work together on projects and in particular on the urgent subject of seeking a new treatment for covid-19.
-What is the activity of Harmonic Pharma, a company based in Nancy?
Based in Nancy since 2009, Harmonic Pharma is a spin-off of LORIA (Laboratoire Lorrain de Recherche en Informatique et ses Applications). We are located within the Ecole des Mines in the heart of the ARTEM campus but also within the SEQENS'Lab, in Porcheville (78), the research center of the SEQENS group.
Over the last ten years or so, Harmonic Pharma has developed expertise in digital solutions for medicine.
Concretely, we have developed innovative software tools, the spherical harmonics, which allow to describe molecules in an original way and to compare them at high speed to a drug database. This technology has been integrated into our drug rediscovery platform, which consists of systematically and rationally exploring the use of existing drugs in order to find a new life for them. This is what is commonly known as drug repositioning.
We also have another activity in the prediction of the toxicity of molecules. Indeed, this is a real issue for society, because chemicals are present all around us in our daily lives: whether in food, cosmetics, and many other areas, … consumers are increasingly concerned about the safety of the products they buy. Manufacturers are forced both by law and by consumer pressure to produce non-toxic products. Harmonic Pharma provides solutions to help manufacturers wishing to validate the non-toxic character of their products.
-You are a researcher. What are you looking for, concretely, and with which tools?
The best way is to give you a concrete example of our achievements.
A few years ago, we initiated a project to reposition drugs in the field of cancer in collaboration with the Curie Institute in Paris. Using its repositioning platform, Harmonic Pharma proposed already known drugs that could be used to treat cancer. Among these proposals, Harmonic Pharma identified an antibiotic, Cefprozil, as a potential candidate for cancer treatment. This was successfully validated in mouse models by the Institut Curie and the results were the subject of a joint patent. The next step is to find a pharmaceutical partner to initiate clinical trials in humans. These promising results are a clear illustration that drug repositioning is an effective and rapid approach to finding new treatments and also that Harmonic Pharma's tools are appropriate in a context of drug repositioning.
-In the current race to find a vaccine against Covid-19 as quickly as possible, what is your objective and what is your strategy to achieve it?
At Harmonic Pharma, we are not looking for vaccines, but we are focusing on small molecules that will be used as drugs to treat Covid-19.
Through our drug repositioning platform, we aim to collaborate immediately and graciously with virologists and clinicians to support the search for new treatments to combat covid-19. More concretely, we would need virologists capable of first testing the efficacy of our new drug proposals in an in vitro test (in test tubes) in order to focus together on the most promising molecule to be subsequently tested in patients.
-If I understand correctly, rather than looking for a new molecule, do you think you can put existing molecules back into the circuit and put them to a new use to provide a response to the current health crisis?
Unfortunately, in order to respond to the urgency of the pandemic, it is not possible to apply conventional routes to find a new molecule, as this would take several years.
By applying our repositioning approach, we can identify a molecule that is already known to be used in another pathology and for which it is known not to be toxic in humans. It is important to select a molecule that does not have undesirable side effects that could harm patients.
Ideally, this known drug should be effective against covid-19 and have no adverse side effects that could harm patients.
-How do you proceed?
At Harmonic Pharma, we have already started our research for a treatment against covi-d19, as there is no specific treatment for covid-19.
We have a first hypothesis based on blocking the entry of the virus into the cell. To date, about ten drugs have already been selected on this scientific rationale and are ready to be tested by virologists.
In addition, we are initiating a second study based on the 3 most promising molecules currently being tested in the DISCOVERY European clinical trial: Chloroquine, Ritonavir and Remdesivir.
Based on these molecules, we will very soon be able to propose a new list of drugs to be tested against covid-19.
Once again, we are calling on virologists to contact us to jointly validate the proposals resulting from our repositioning platform in order to identify a drug against covid-19 as quickly as possible.