The students of the Bac Pro section and their teachers cooked a gastronomic meal as part of their studies. Others prepared the rooms of the Hotel d'application Botanique. Let's go!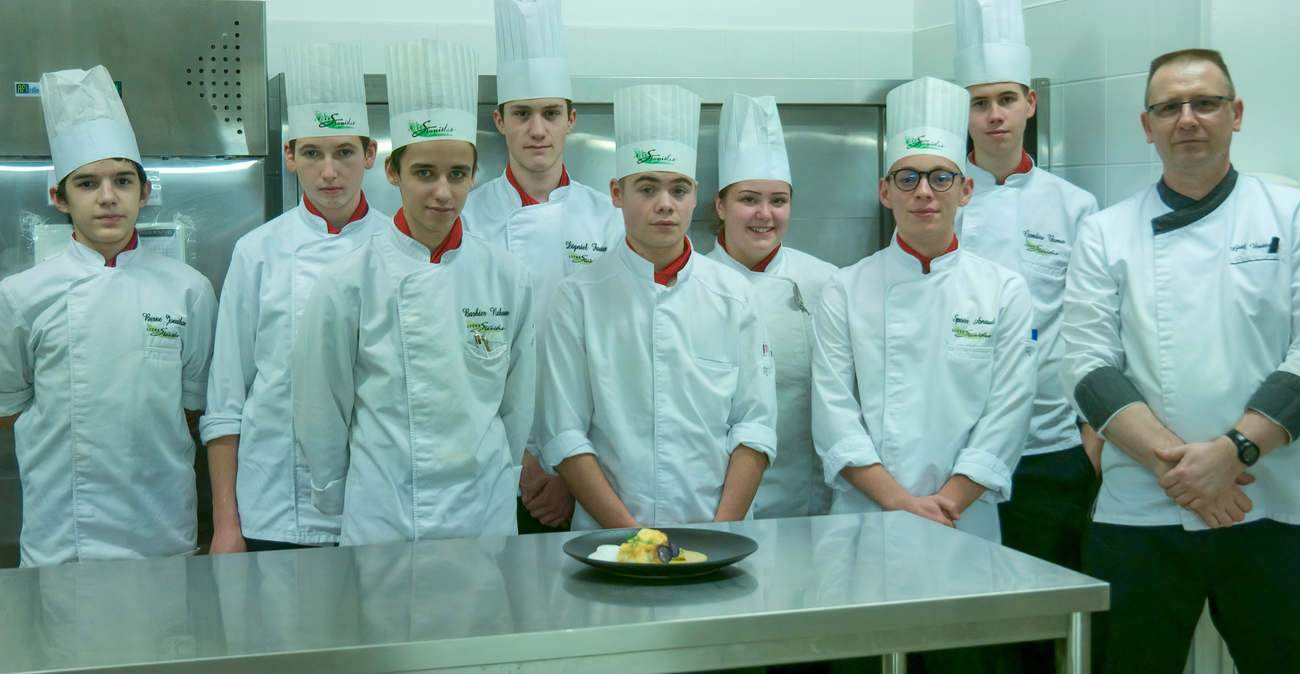 On the heights of Nancy, the Lycée Polyvalent Régional Stanislas de l'académie Nancy-Metz, in Villers-lès-Nancy (54), welcomes a thousand pupils and students who go on to take qualifying courses. In addition to general and scientific training, the Lycée Stanislas offers courses in hotel and catering and bakery-pastry making. In three years, students obtain a Baccalaureate in Hotel and Restaurant Science and Technology (STHR), a professional Baccalaureate in Cooking, a professional Baccalaureate in Marketing and Services in the restaurant industry and, for some, a BTS in Hotel and Restaurant Professions (MHR). The three-year course includes 12 weeks of internship in a company.
Three restaurants
The training is partly theoretical. But it is mostly practical. The school has two introductory restaurants, open to the public every lunchtime from Tuesday to Friday. Fast service in one hour. Three courses, one glass of wine. Impeccable service. Quality products. Tasty dishes. The students serve in the dining room, others eat lunch like traditional customers. In the kitchen, there's no shortage of work. We are presented with the bill: 13 €.
There is also an application restaurant, the Horizon Gourmand. Change of range. Tonight, 23 first-year students and their teacher welcome 38 customers for a gourmet meal. Like every Tuesday and Thursday night. The tables are set up and decorated as for a festive meal. The students, boys and girls, are dressed impeccably.
Lycée Stanislas – 54 Villers les Nancy – MHR" This evening we are putting into practice all the serving techniques, explains teacher Edwige Juchault des Jamonières. Whether it's taking an order, opening a bottle of wine, making flambéing, cutting meat and fish, or cutting fruit. Students must also know the products used to make the dishes, the wines and spirits (they have sommelier courses) and must make cocktails. »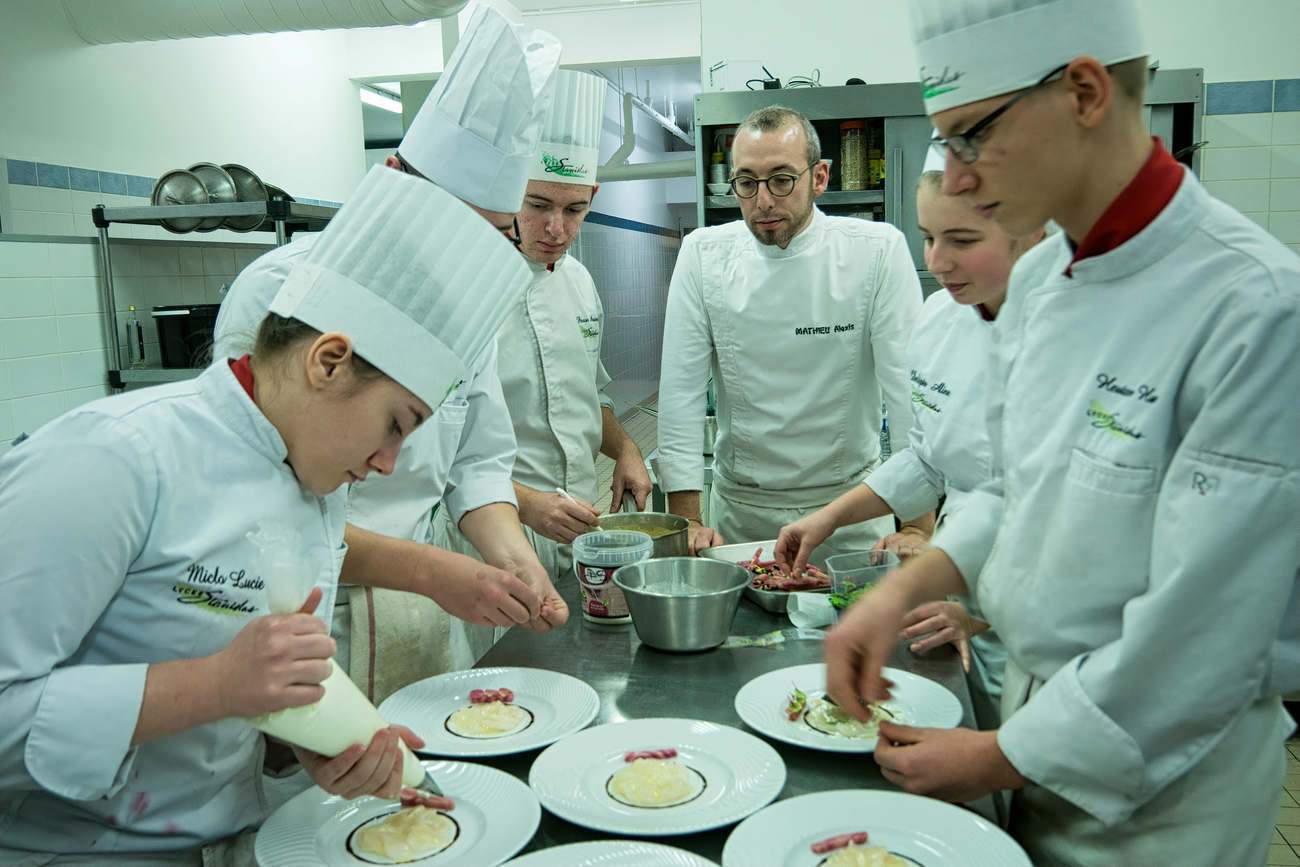 Hot and cold
Meanwhile, things are heating up in the kitchen. A brigade of thirteen young apprentice cooks work with their teacher, Alexis Mathieu, to prepare a honey and lemon scallop carpaccio (with a two-coloured beetroot stick, smoked herring whipped cream and crispy bread tile), others prepare the cheese plates.
A little further on, another kitchen for warmth. The teacher, Gaël Vouters prepares with his students a back of cod in a parmesan crust, ginger foam, vitelotte potato tile accompanied by a sweet potato purée with Madagascar vanilla and confis onions.
(see the complete menu below).
It should be noted that there is also a professional bakery/pastry tray which is more and more sought after by the students.
Five three-star rooms
Tonight, we eat and sleep in high school too. There are five three-star level rooms (open to the public from Monday to Thursday) at unbeatable prices. Five STHR classes have chosen the hotel speciality. Philippe Benoit, Deputy Director of Vocational and Technological Training (DDFPT), explains that there are also two BTS classes (36 students) in Hotel and Restaurant Management (MHR). With three options: Service and Food Management, Culinary Technology Management and Accommodation Management.
"Pupils and students will learn to welcome customers, accompany them, respond to their requests, they will learn to organize themselves at a desk level: manage groups and customers, explains Philippe Benoit. They must also know how to make a "blank" and "bed rest" room, manage customer departures, prepare breakfasts, make receipts…"
Valentin Melchior and Clément Durand, one in a professional ferry and the other in a BTS, follow this path in the hotel business. Today, they came to help their classmates. They're at the reception and at the bar.
It's almost 8:00. The first customers arrive. A little adrenaline rush. It's getting hotter and hotter in the kitchen. All hands on deck in the dining room. The service can begin.
Have a good tasting.
For reservations!
03 83 91 35 35
The Shop
If you can eat at lunchtime in a brasserie format and in the evening, twice a week, in the restaurant of application (gastronomic menu) the public can also buy dishes prepared by the students of the Stanislas high school, as well as bread and pastries.
Information:
03 83 91 35 35