The phenomenon is not new, but it is getting worse. The Mountain Bikers Foundation is concerned.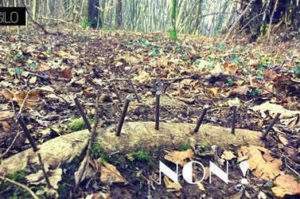 Motorcyclists victims of wires stretched in the woods in the Dordogne, it was in May 2019. A mountain biker injured in the throat by "a thin and solid wire" stretched at face level, it was in August, in Isère. In September 2019, traps were placed in the woods of Champey, a small commune of Meurthe-et-Moselle. In the Vosges massif as in all regions of France, it is not uncommon to find traps of all kinds: nail traps, barbed wire traps, plank traps. There are also shards of glass, rocks moved at the exit of a bend, harrows, wolf traps and concrete irons planted in the ground like piles.
"These are criminal acts that can injure or even kill," enraged a mountain biker from Lorraine who, on several occasions, was almost a victim of one of these traps. But whether they are mountain bikers, riders, motorcyclists or simple hikers, all users of forest roads are today, if not worried, at least very careful.
Difficult cohabitation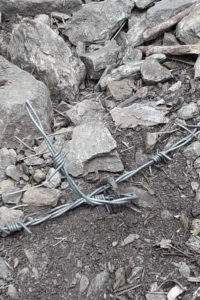 Who plays with people's lives like that? "It's difficult to say", explains Pierre Depaillet, administrator of the Mountain Bikers Foundation, who is concerned about the phenomenon. MBF asks "its members confronted with this kind of problem to lodge a complaint because it is up to the competent authorities to find those responsible for their actions".
Nature belongs to everyone and must therefore be shared between hikers, whether on foot, by bike, on horseback or motorbike, farmers, but also hunters or simple mushroom pickers. Cohabitation is sometimes difficult, if not impossible.
On 13 October 2018, Mark Sutton, a 34-year-old restaurateur from Wales but living in France for four years, "was the victim of a hunting accident" in Montbriond, Haute-Savoie, tells us about Le Dauphiné Libéré. The accidental death of the mountain biker led the mayor of the town to ban, temporarily, hunting in his commune.
Following this accident, MBF launched a #ZeroMort campaign to improve safety in the hunting areas. The aim is to use new technologies to inform each other, hunters and hikers, about the geographical areas in which they are located. The experience in Isère has been conclusive.
"MBF wants to be a constructive partner for hunters," says the association. The proof? An agreement will be signed between MBF and the Fédération Nationale de la Chasse (FNC) during the Hunters' General Assembly in March 2020. It took more than a year for the text to finally be accepted by both parties.
This rapprochement between the main users of nature should calm things down and deter trappers from continuing their criminal activity.
Bikers riders, 3 advices to meet each other well
An app to make peace with the hunters