Scientists are trying to understand the deleterious effects of SARS-CoV-2 on the brain, but are not really succeeding. Jean-Marc Sabatier has just deciphered the mechanisms associated with neurological disorders induced by the virus.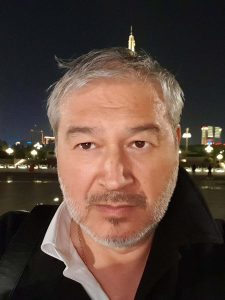 By Jean-Marc Sabatier*
SARS-CoV-2 is able to infect brain cells (including neurons, astrocytes, and microglial cells) via binding to the cellular receptor ECA2 belonging to the renin-angiotensin system (RAS) of the central nervous system (CNS). Microglial cells (which play the role of immune system macrophages in the brain) can produce pro-inflammatory cytokines (activated state M1) as well as histamine.
Nerve cell destruction
In the nasal cavity, the virus attacks/infects the cells (support cells and/or neurons) of the olfactory epithelium, then the olfactory bulb (loss of smell = anosmia). The same olfactory bulb also manages information on taste (loss of taste = agueusia). The small loss of grey matter (= nerve cell bodies) in the brain corresponds to the destruction of these nerve cells induced by the viral infection.
The RAS of the central nervous system is responsible for the neurological disorders sometimes observed in patients (including in cases of long covid).
This RAS differs greatly depending on the areas of the brain involved. The deleterious effects (including inflammation, vasoconstriction, oxidative stress and cell death) are due to the overactivation of the AT1R receptor and the prorenin receptor.
The role of vitamin D
Incredibly, there is an additional functional RAS inside nerve cells (intracrine RAS). This is found in the membranes, including those of the cell nucleus and mitochondria (the energy centers of the cell).
Vitamin D (especially vitamin D3) can counteract the deleterious effects of the virus on the brain by acting on the RAS of the central nervous system, in parallel with its beneficial effects on the systemic RAS that controls the various organs and tissues of the body.
https://lnkd.in/gui33aKD
https://lnkd.in/eWyrwJPQ
*Jean-Marc Sabatier, research director at the CNRS and doctor in Cell Biology and Microbiology, affiliated with the Institute of Neuro Physiopathology (INP), at the University of Aix-Marseille.