Jean-Yves Le Drian must answer the summons of an investigating judge in Bamako, Mali, on June 20, 2022 for "attacking public property and other offenses". Explanations.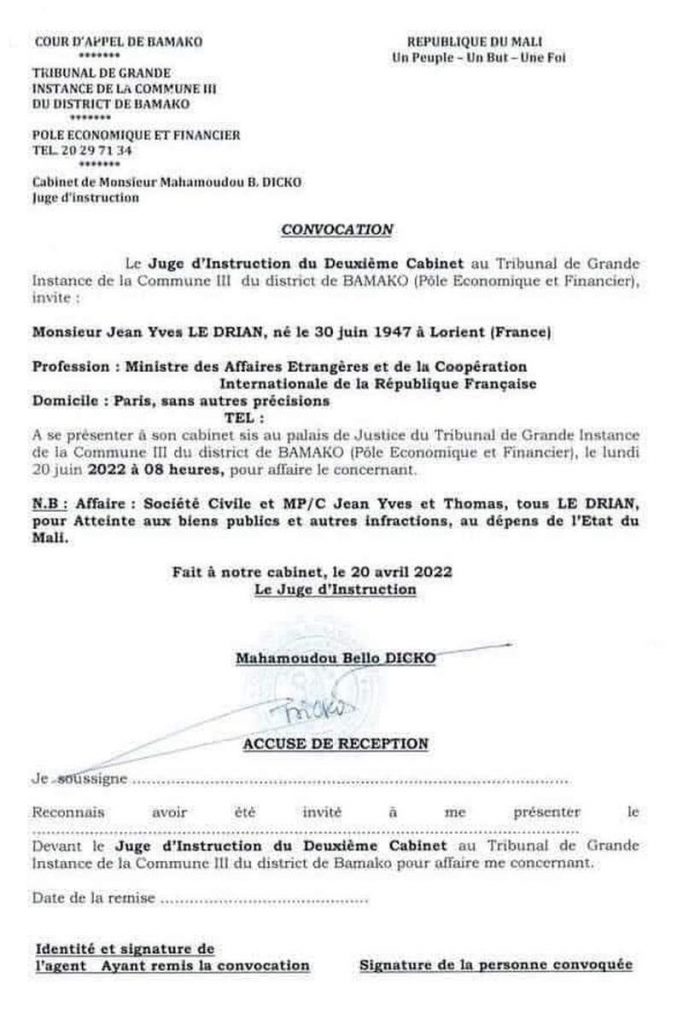 It is not certain that the summons issued to the French Minister of Foreign Affairs will reach its addressee since there is no address for the defendant. It is written "Domicile: Paris, without further details". Well, let's move on.
What is it about? An investigating judge of the economic and financial division of the court of Bamako (Mali), Mr. Mahamoudou B. Dicko summoned Jean-Yves Le Drian for "attacks on public property", a case that concerns both Jean-Yves Le Drian and his son, Thomas.
The biometric passport market
An article in the newspaper Mondafrique tells us that Malian justice is interested in the awarding of the biometric passport contract.
The contract was awarded to a Breton company following "pressure" exerted, it is said, by the then Minister of Defense, who has since become the head of the Quai d'Orsay.
The case dates back to 2015, recalls Mondafrique. The Minister of Defense at the time, Jean-Yves Le Drian, who is in charge of Operation Barkane, would have exerted pressure on President Ibrahim Boubacar Keita for the Breton company Idemia, formerly Oberthur Technologies, to obtain the passport market instead of a Canadian company Bank Note. A contract awarded by mutual agreement which, at the time, caused a stir in Mali and raised a wave of indignation among Malian MPs. Then, the affair was put to rest.
A complaint in 2022
Until the complaint filed on February 22 by a civil society movement called Maliko (Mali affair, in French), determined to shed light on this tenebrous story. It is a complaint for "illegal taking of interest" and "favoritism" which targets Jean-Yves Le Drian by name, who is said to have used his connections and his son Thomas.
The awarding of the biometric passport contract, under conditions that Maliko considers suspicious, was a very lucrative operation for the French company Oberthur, but not for the Malian state, which lost more than a third of its revenue in this contract.
Jean-Yves Le Drian's summons to appear before a judge in Bamako is unlikely to succeed. But it will probably not help diplomatic relations between Mali and France.