Even if the 10ᵉ day of mobilization against the pension reform gathered less people, this Tuesday, March 28, the anger of the unions and the French, does not fall back, far from it.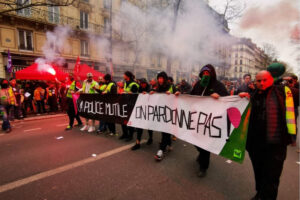 The executive would be wrong to rejoice at the loss of momentum in the mobilization observed this Tuesday, March 28 in France. Certainly, the day after the scenes of violence that marked the demonstration in Sainte-Souline, in the Deux-Sèvres region, the ranks of the demonstrators were a little more sparse, both in Paris and in the provinces. As always, the figures of some do not match those of others: 740,000 protesters according to the police, 2 million according to the CGT. This remains an unprecedented situation in France for a tenth day of mobilization in two months.
The anger does not subside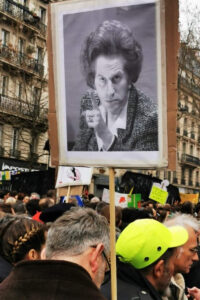 In addition to the marches, with some incidents, especially in Paris at the end of the procession, several strike movements have marked this day Tuesday. At the call of several unions, the Eiffel Tower did not receive visitors, nor the Palace of Versailles or the Arc de Triomphe. The strike was lifted, on the other hand, at the Paris garbage collectors.
Is it over? Not yet. The interunion announced that an eleventh day of mobilization would be organized on Thursday, April 65, 2023. This shows that anger is still very strong among employees as well as in public opinion, since two thirds of French people support the unions.
No hand out
How to get out of the impasse? The intransigence of the executive branch, and particularly that of the President of the Republic, who is adamant about his certainties, contributes to the deadlock. The government spokesman, Olivier Véran, refused the "mediation" proposed by CFDT leader Laurent Berger, to reconnect the threads between political and union leaders. "No need for mediation, we can talk directly" said Olivier Véran.
That's fine. But talk about what? About everything except the pension reform. The good joke!
If Macron still does not hear the anger of the street, if his government turns a deaf ear to the demands of two thirds of the French people, this affair will end very, very badly for the President of the Republic and his entourage. Especially since the high school and university students are entering the dance. And that the month of May is fast approaching…
L'ambiance se chauffe à Paris. De gros feux sont allumés. La police vient de charger le cortège de tête (@Ab7Media)#greve28mars #Manif28Mars #France #ReformeDesRetaites #manifestation #Revolutionpic.twitter.com/xiZxtaK52F

— Anonyme Citoyen (@AnonymeCitoyen) March 28, 2023
La police charge et matraque le cortège à Paris (@Laawnik) #greve28mars #Manif28Mars #France #ReformeDesRetaites #manifestation #Revolutionpic.twitter.com/7zi1GWoMNn

— Anonyme Citoyen (@AnonymeCitoyen) March 28, 2023
Première charge dans le cortège, mouvement de foule, les policiers matraquent des manifestants qui ne peuvent pas reculer. #Paris #Manif28Mars #greve28mars #ReformeDesRetaites pic.twitter.com/P2Rsd8R43k

— AB7 Média (@Ab7Media) March 28, 2023