In France, snow tires will be mandatory in certain municipalities as of November 1. Elsewhere, each country has its own rules.
Whether you're going on a winter sports trip, spending a weekend in a neighboring country or crossing the border to work every day, every year the same question arises: should you have snow tires or not? In order to equip your vehicle correctly, let's decipher the rules that apply in France and in Europe with the European Consumer Centre (ECC) France.
In France, as of November 1st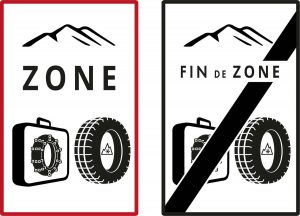 Two new signs are appearing on French roads. Called B58 and B59 in the administrative jargon, they indicate the zones in which each car must have winter equipment from November 1 to March 31.
The first one, with its red listel, indicates the "entry of the zone of obligation of equipment in winter period". The second one, with a black stripe, symbolizes the "exit of the winter equipment obligation zone".
48 French departments, located in the mountainous massifs, are concerned by this regulation. But it is up to the prefect to determine in which communes it is applied. Before driving, check the websites of the prefectures.
What equipment is required in these French mountain areas?
Motorists have a choice. There is no obligation to change tires if they have anti-skid equipment such as metal chains or socks.
If they want to equip their vehicle with snow tires, they must be certified. The alpine symbol ("3PMSF") consisting of a three-peaked mountain and a snowflake and/or the "M+S" marking (which means "mud + snow") are mandatory on the tire. They are a guarantee of high quality performance and safety.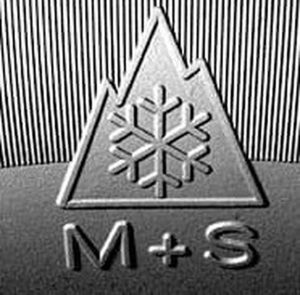 Motorists can also opt for "all-season" tires. Less efficient than winter tires, they are authorized under certain conditions. They must be certified "3PMSF", i.e. include the pictogram of the 3 peaks mountain with the snowflake.
The rule is the same for all light vehicles, commercial vehicles, motor homes and buses. This obligation to wear or hold winter equipment concerns all vehicles, whether they are registered in France or abroad. In case of violation, the driver is liable to a fine of 135 euros. He also risks the immobilization of his vehicle if the forces of order consider it necessary.
Snow tires in other European countries: different climates, different rules
In Germany, chains or winter tires are mandatory when weather conditions require it, i.e. in case of snow, slush, ice, freezing rain or black ice. No fixed period, no minimum temperature in the law. But there is an informal rule in Germany: "Oktober bis Ostern", from October to Easter. In other words, the Germans anticipate and equip themselves.
Luxembourg has almost identical regulations. Hard-packed snow, slushy snow, black ice, slabs of ice and frost are all conditions under which winter tires are mandatory. They must be fitted to all the vehicle's wheels.
In Austria, from November 1 to April 15, traffic may be restricted in case of snow, slush or ice. Vehicles weighing less than 3.5 tons must be equipped with winter tires on all wheels.
In theory, winter tires or chains are mandatory in Italy from November 15 to April 15. In reality, each region decides independently if, when and where to impose winter equipment. These zones are then indicated by signs. For example, in the Aosta Valley, winter tires are mandatory from October 15 to April 15.
Eleven of the 27 countries of the European Union do not have specific regulations. This is the case of Belgium. Winter tires are still recommended, especially since the use of chains may be restricted. They are, for example, prohibited if they are likely to damage the road surface.