"This is not a film about #MeToo," assures actress-director Monia Chokri, who shot a modern, offbeat tale, dealing with male-female relationships with humor.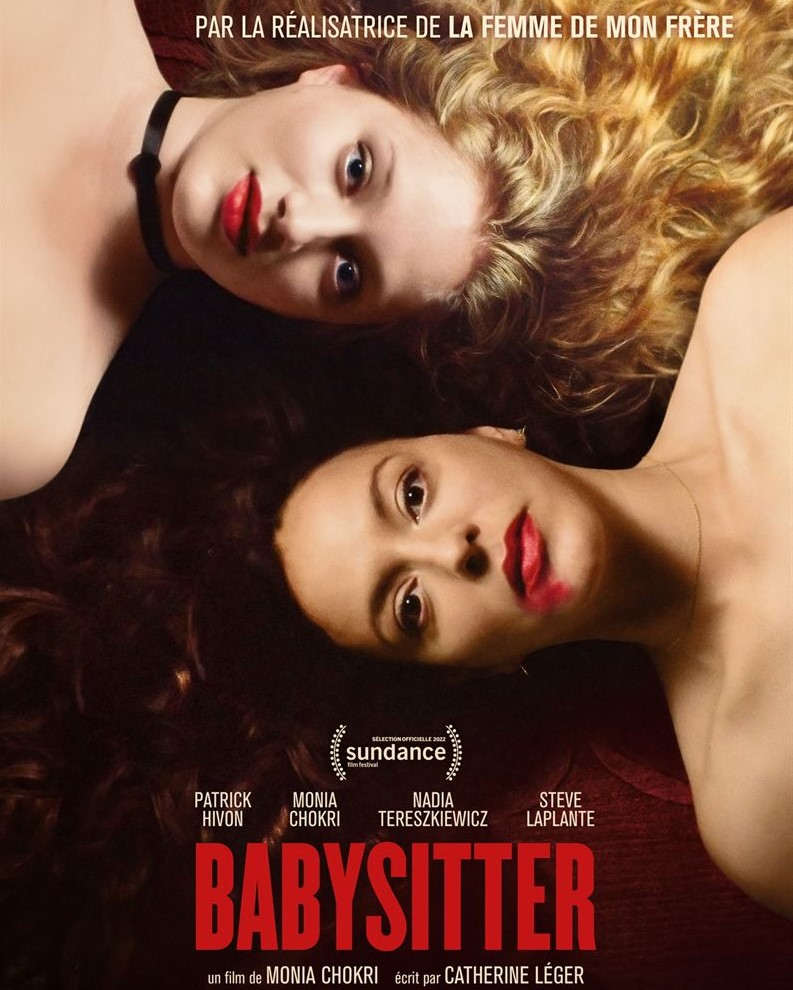 "I love you, Chantal," Cedric (played by Patrick Hivon) yells as he kisses the cheek of Chantal, a TV reporter, in the middle of a game. Obviously, it's messy. The next day, once sobered up, the young father realizes the significance of his improvised gesture, the video goes viral on the internet and he is suspended from his job. Thus begins "Babysitter" (released April 27), a film by Quebec actress-director Monia Chokri, who previously directed "My Brother's Wife."
"Babysitter" is an adaptation of a play written by Catherine Leger, then a young mother in the midst of postpartum and sleep deprivation. "When I saw the play, I found it very funny and that it dealt with the relationship between men and women with a lot of finesse and humor," said Monia Chokri at the Rencontres du Cinéma de Gérardmer, where she presented her film in preview. "It's not a film about #MeToo, it asks a lot of questions but doesn't necessarily give answers. Beyond the film, it creates dialogue between people while we are in an era of ready-to-think (…) Beyond #MeToo, what interests me is the deconstruction of humiliation," says Monia Chokri, who gave herself the role of Nadine, Cedric's wife, depressed, tired, worn out by the cries of their new baby, and who pretends to return to work to better rest at the hotel.
Cloistered at home, the husband plans to write a book of apologies to all those women who might feel hurt, assaulted, explaining his misogyny in spite of himself, his masculinity without his knowledge. A project that is joined by his invasive journalist brother, a man who pretends to be a defender of women's rights, but turns into a Tex Avery wolf when "the" babysitter of the title arrives. A nanny like no other, played by the young actress Nadia Tereszkiewicz, recently seen in Dominik Moll's "Seules les bêtes" and Roschdy Zem's "Persona non grata", who will be in competition at the Cannes Film Festival in Valeria Bruni-Tedeschi's film "Les Amandiers".
"It is not a classic comedy"
"She is an extremely charismatic young creature, an extraordinary young girl, funny, strange, she hypnotizes the characters," says Monia Chokri. Blonde and smiling, indeed sexy in her maid's uniform, this babysitter does not only take care of the baby, she is also attentive to the adults (women and men) and sows the trouble in the house. In this period of "awakening of consciences", this film does not only evoke the ugly machos, but also the couple, maternity, the relationship with the media, desire, education… "It is a look at women, we fear the witch because she has powers, it was interesting to reverse these codes. I see it more as a psychoanalytical film than a gender film" adds Monia Chokri, "Boys must learn to listen to signals, men are not educated to listen, and women are not educated to say no".
Packed with visual references ("Lolita", "American Beauty" …), it is a very stylized film, a modern tale, kitsch and fantasy. "It is not in an earthy realism", confirms the director, "It is a comedy, I decided to treat it by using the codes of the genre, but also surprising codes, it is not a classic comedy, it is not just because it amused me, there are elements that pushed me". She uses "a whole imagery", horror, giallo (Italian fantastic cinema), erotic cinema of the 70s… inserted in a strange and exaggerated film, so shifted and stripping that it becomes sometimes outrageous.
Patrick TARDIT
"Babysitter", a film by Monia Chokri (released on April 27).