The actress-director wanted to "take a feminine look" at guys with "Men on the verge of a nervous breakdown", a tender and benevolent group comedy.
Thierry Lhermitte, Ramzy Bedia, François-Xavier Demaison, Laurent Stocker, Pascal Demolon, Michaël Gregorio, and the young Max Baissette de Malglaive… It's "an incredible cast" that Audrey Dana directed in her film "Men on the verge of a nervous breakdown" (released on May 25). "The common point of all these actors is that they come from the theater, they are really actors of a group, of a collective, and that's what I needed. There was no lead role but eight leads, there is no one role more important than another, it was really necessary to find the casting of people with a well-placed ego", confided the actress-director at the Rencontres du Cinéma de Gérardmer, where she presented her film in preview.
Seven actors in the credits, and one woman: Marina Hands, who plays Omega, a kind of shaman who talks to animals, a coach who leads "personal development" courses in the Vercors. The trainees are all men in bad shape, seven men from 17 to 70 years old, who have only one thing in common: they are in bad shape. There is an anguished bachelor, a grumpy widower, a neurotic boss, a young father with a lot on his plate, a writer who screwed up, an ex-gay scout who would like to be a father, a teenager with a complex and harassed… Seven trainees left in the middle of nowhere, far from everything for four days, in a white zone, with no telephone, no water, no electricity…
"I wanted to talk about you, men", said Audrey Dana in Gérardmer. After having evoked the torments of these ladies and girls with "Under the Skirts of the Girls", those of gender and sex with "If I Were a Man", it is to the unfortunate males that she dedicates her third film. "To put all these men with a woman, in the middle of nature, it was a way to counterbalance a masculine a little too fit", assures the director, who assumes the obvious reference to the film of Pedro Almodovar: "I wanted to divert its title, so that from the moment we say Men on the verge of a nervous breakdown, we hear Women on the verge of a nervous breakdown; and hop, I blur the tracks, it was what I really wanted to do.
"We are sensitive too"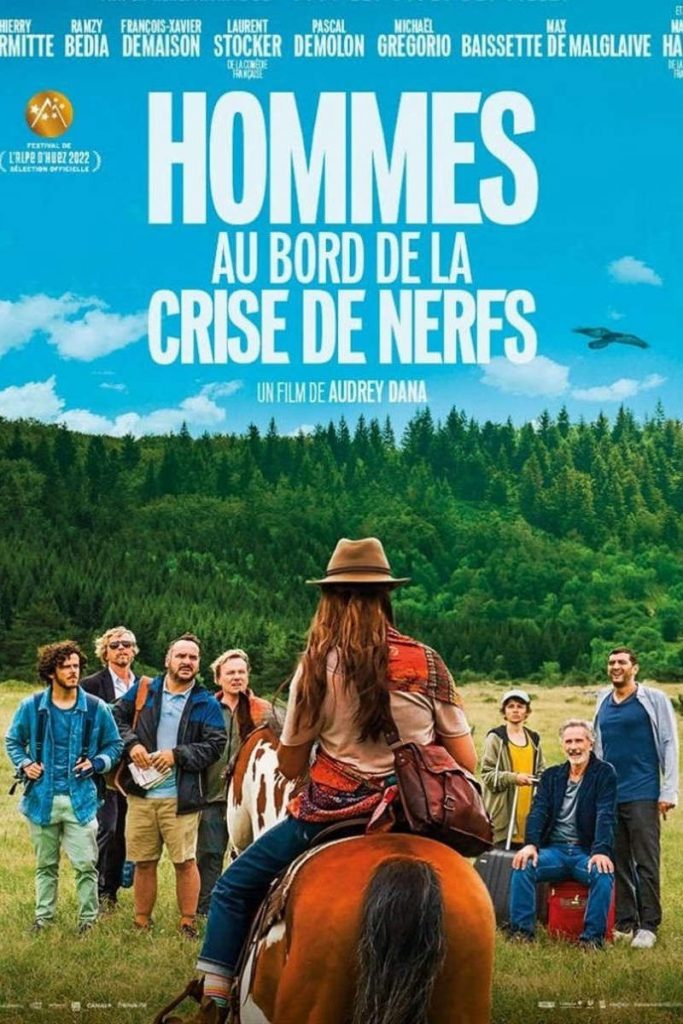 "We wanted, with my co-writer Claire Barré, to make a film to declare our love, to remind us that there are nice guys, that we love them, and also a desire to show the reality," says Audrey Dana, "There are only 3% of women directors in the world, so 97% of the films we see are made by men, so their look. Here, we wanted to bring a feminine look on men, and show them a little more as we have them at home, they look a little more like our brothers, our fathers, our guys. I don't pretend to know men very well, I did 150 anonymous interviews to hear men on very intimate questions; but to the question "What do you expect from a film about men?", they almost all answered the same thing: "That it shows that we too are fragile, that we too are afraid, that we too are sensitive". And it is true.
In Lorraine, Audrey Dana was accompanied by two actors from the region, Laurent Stocker and Michaël Gregorio. The singer and impersonator plays a seemingly gentle man, capable of lightning rages. "Despite his apparent gentleness, I knew there would be no problem pushing a button and it would explode, and that's what happened. Laurent Stocker plays a subway driver who needs air: "He's someone who spends his life underground, I spoke with subway drivers who told me that many fall into depression, indeed. I built the character like that, it is also someone who has some small problems of communication ", specifies the actor.
"For some years now, I have often been offered roles of notables, politicians, there was this character who is completely different, I really enjoyed immersing myself in a world of autism, and give voice to those who do not have it, "adds Laurent Stocker, "We often give the floor to people who have the upper hand, but to be able to give the floor to people who are a little different, who think differently, I'm always very happy to play these roles, they will not express themselves easily, so it is necessary that the actors, that others, represent them.
More gentle than mocking
If she was inspired by real shamanic protocols for the exercises practiced by her trainees, Audrey Dana also imposed an ecological shooting on her whole team. "Cinema is a polluting industry, but I work with Ecoprod, which has found every way to make cleaner cinema. We really need to change things, we can act everywhere," she says. "Audrey wants us to be very careful about the environment, and it's normal, we had dry toilets, we ate seeds," smiles Laurent Stocker.
By making them take a big bowl of oxygen, Audrey Dana gives air to her characters. Her film is obviously a comedy, a tender and benevolent group comedy; she hides nothing of the flaws of all these "Men on the verge of a nervous breakdown", but we are rather in the sweetness than the mockery, the tenderness rather than the caricature, and even the feminism while talking only about guys.
Patrick TARDIT
"Men on the verge of a nervous breakdown", a film by Audrey Dana, with Marina Hands, Thierry Lhermitte, Ramzy Bedia, François-Xavier Demaison, Laurent Stocker, Pascal Demolon, Michaël Gregorio, and Max Baissette de Malglaive (released May 25).