The actor-director plays a kind of "Forrest Gump," a kind man who fades away, and exposes "a way of looking at life" in his film "It's Beautiful !"
"It's a bath," exclaims Pierre. It's not only the expressions that are retro with Pierre, his tastes, his look, his hairstyle, his moustache, everything brings him back to the 50s.  Pierre is "special", "not like the others", he is a nice guy, able to grow flowers in a cave. "Why shouldn't I be nice?" asks this character in "C'est magnifique!", a film by Clovis Cornillac (released June 1). "I wanted a benevolent character who, when he arrives in places, blends in like a chameleon and makes people better," confided the actor and director at the Rencontres du Cinéma de Gérardmer, where he came to present this film in preview.
It is a fable, a tale (co-written with Tristan Schulmann and Lilou Fogli), that Cornillac has directed, after "Un peu, beaucoup, aveuglément", a "Belle et Sébastien", episodes of the series "Chefs", and before "Couleurs de l'incendie" after the novel by Pierre Lemaître (out at the end of the year). The actor also plays the main character, this Pierre, who until the age of forty, has always lived away from everything, has never gone anywhere else than in his mountains, where he talks to bees and grows flowers.
"A sort of homage to the cinema
Pierre has the candor and naivety of a "Forrest Gump"; unsuited to modern life, of which he knows nothing, he sets out to discover the world after the accidental death of the couple who had taken him in. Unaware that he was an adopted child, he comes down from the mountain, with his Dario Moreno and "The Little Prince" records in his suitcase, to return to the family apartment in Lyon. And above all, to find his parents and an identity since, administratively, he does not exist. "He is a superhero, Pierre; he has an absolute power, it is that he is in osmosis, the real great power of superheroes today is this benevolence. The real great power of superheroes today is this benevolence. I feel better when people feel better next to me," says Clovis Cornillac.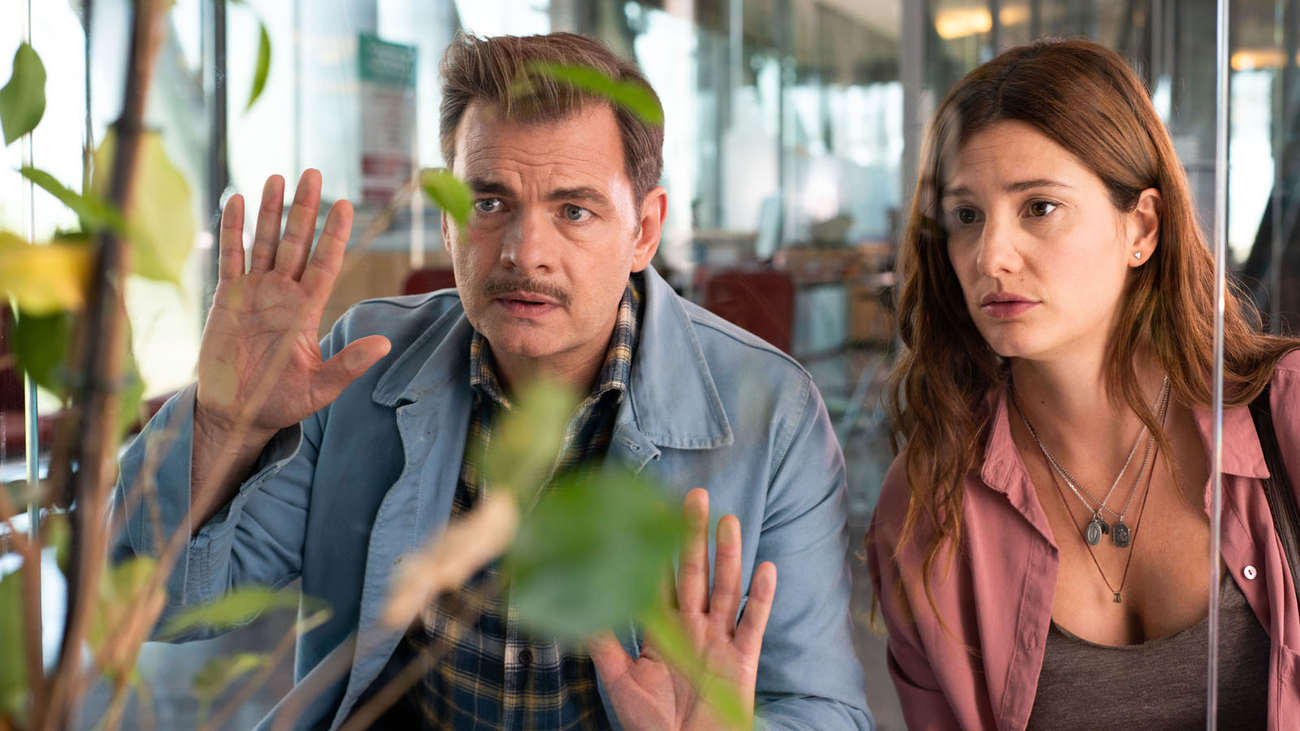 Pierre is benevolent when he meets Anna, another outcast from life to whom Alice Pol gives her "angry freshness". A former alcoholic with a car for a home, Anna has "something broken". These two will help each other, to recover her daughter, her battle which Anna has lost custody, and to find Pierre's parents. A big kid who grew up in an idyllic nature, his discovery of contemporary society is quite comical, but he applies an unalterable common sense close to home.
Cornillac has created a whimsical, poetic and graphic universe around this singular character; the story becomes fantastic when Pierre fades as he struggles in his quest for identity. At first he becomes all yellow, sepia, then black and white, until he becomes invisible. "There is a kind of homage to the cinema that I liked, I try when I make films, without any pretension, to try to make cinema, to give a proposal that is the most sharing possible, "says the filmmaker, "I do a lot of preparation beforehand, I draw the sets and I do the cutting of the whole film, with the shots, camera movements, lenses … It is a form of writing cinema, the film is written visually, I know exactly where I want to go.
"Dario Moreno has always fascinated me
Logically, the film opens with the song that gives it its title, "It's beautiful!". "Since I was a kid, Dario Moreno has always fascinated me," says Cornillac, "This guy goes all out, he had a look in the 50's, a little mustache, a pink Cadillac, with songs of a Cole Porter swing, there is this joyful side, a joy of living and a quaint and timeless image. There is a way of seeing life, the greed of something simple and benevolent, it summarized very well the character of Pierre, and the energy he could give off.
In the credits of this film shot in his good city of Lyon ("Rarely filmed in cinema, except in period films", he notes), we find Clovis' family, mother (Myriam Boyer), father (Roger Cornillac), wife (Lilou Fogli), daughters and sons. "There are many people from my family, but I have too much love for cinema to tell myself that I am making a film to film my family, strangely I almost realized it afterwards," he says, "What counts most when I shoot is the film, I am obsessed by the film, by what I want to tell, to do, to share with the public; I am not interested in putting my friends, my family, but when it fits precisely it would be absurd to say no. In all my films, my children appear, it's just a little wink, a little gift, a meeting that we have together that I find quite nice. And my father, I was happy because it is a guy who works in a not very recognized theater, it happens that he has this face of the guy who holds his bar, it works, he has a particular presence ".
Like the song and like the expression in the title, "C'est magnifique!" is thus a positive, gentle, simple and generous film. "At some point you have to tell the people you love that you love them, it's the Chedid song, it sounds silly but it's super important," says Clovis Cornillac. "It's bath!", would add Pierre.
Patrick TARDIT
"It's beautiful!", a film by Clovis Cornillac, with Alice Pol (released June 1).