"I wanted to talk about people in their fifties and a woman facing this age," says director Cécile Telerman, who came to present her film at the Rencontres du Cinéma de Gérardmer.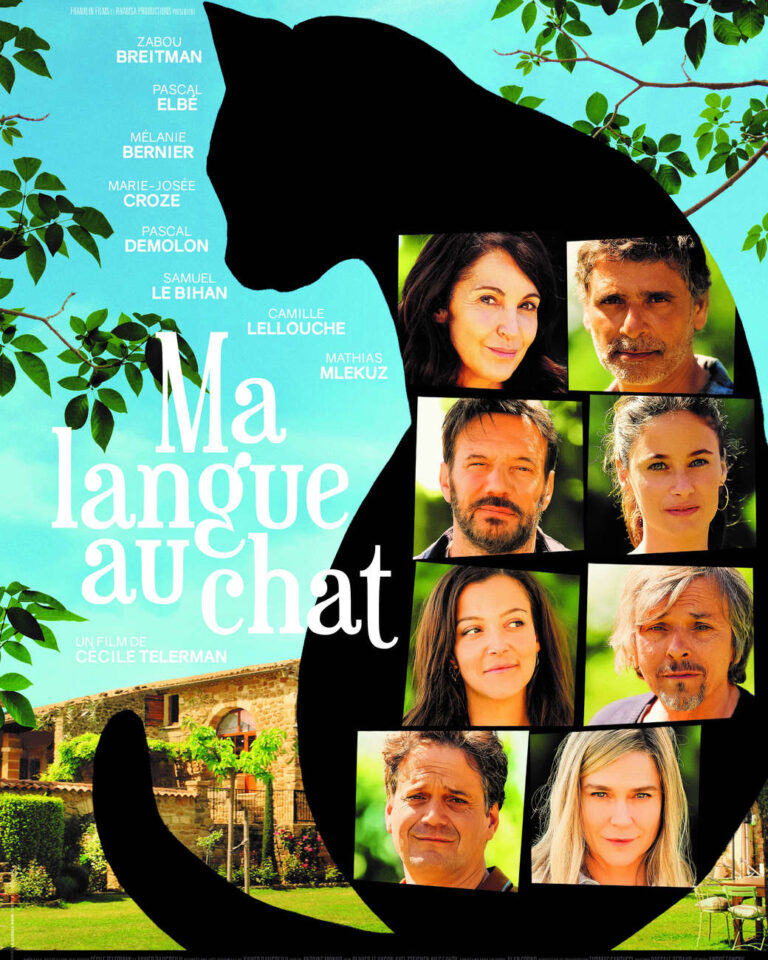 The not-so-little cat is dead, or at least missing, and it's panic during this weekend in the countryside told in Cécile Telerman's film, "Ma langue au chat" (released on April 26). A group of old friends meet to celebrate a birthday, at the invitation of a couple, Laure and Daniel (Zabou Breitman and Pascal Elbé), where the wife is particularly addicted to her Maxou, a tabby cat who is omnipresent even in the marital bed.
Among the guests, the brother and sister-in-law (Mathias Mlekuz and Marie-José Croze), a bachelor a little lost (Samuel Le Bihan), an old friend (Pascal Demolon) with his new and young fiancée (Camille Lellouche), a kind of business influencer, and Magali (Mélanie Bernier), a single mother and Laure's co-worker, without forgetting the eco-friendly neighbor at whose house the husband is going to get his back unblocked
Age, time, the meaning of life…
Generally, choral films, comedies for the most part, feature thirty-somethings caught in sentimental turmoil; here, the majority of the characters are in their fifties, and the subjects are more about age, time, the meaning of life… "I wanted to talk about people in their thirties, about the meaning of life. I wanted to talk about people in their fifties and a woman facing this age," confided Cécile Telerman (director of "Tout pour plaire", "Les yeux rouges des crocodiles") at the Rencontres du Cinéma de Gérardmer, where she presented her film in preview. "No fifty-year-old actress wanted to play the role of a menopausal woman. Zabou is in the role, she did not care about age. Age is a subject, society is divided today, there's not much that unites people anymore," adds the filmmaker.
Because of an allergy to cat hair, is triggered the drama of the weekend: Max, his mother's cat, spends the night outside and, worse, while he was going to get the croissants in the morning, a guest thinks he has crushed it. The planned program, aperitif, petanque, birthday cake … is of course disrupted, everyone is looking for the missing cat while Laure begins to suspect everyone. "She has a bubble around her and reacts very badly to reality," says Cecile Telerman, "The cat is more present by its absence; you do not get angry with your cat because it does not like the pate, that's what people blame themselves. It's not normal to prefer your cat to your friends or husband," says the director, who recognizes a fusional relationship with her own cat.
"The disillusionment of seeing themselves grow old"
During this failed weekend will express marital crises, personal disasters, small arrangements, bad faith, solitudes, disenchantment, selfishness and every man for himself. "When you make a choral film, each character has a flaw, illusions, they also have the disillusionment of seeing themselves grow old," says Cecile Telerman, "We shot during the confinement, we stayed together for six weeks, it contributed to the spirit of the group. "And it created an autarky quite close to what happens in the film, the interactions also existed outside the shoot," adds actress Melanie Bernier, also present in Gerardmer. "Magali is a really fine girl, she has to have confidence in herself to get out of it, I liked playing her," says the actress, "The individualism of youth is stronger today, the film has a pretty strong feminist form."
If we give our tongues to the cat when we stall on a riddle, the title of the film also evokes all those things that some and others do not dare to say out loud: "If I say it, I will do harm; when we say what we think, there is risk. The characters don't hide huge things from each other, but guilt can make them lie," notes Cécile Telerman. And in the end, they will say things to each other, assert truths, reveal secrets, in this benevolent social comedy well served by its cast.
Patrick TARDIT
"Ma langue au chat", a film by Cécile Telerman, with Zabou Breitman, Pascal Elbé, Mélanie Bernier, Marie-José Croze, Pascal Demolon, Samuel Le Bihan, Camille Lellouche, Mathias Mlekuz (released April 26).