Three scientists are analyzing the different clusters in different countries around the world. Fruits and vegetables, a source that may have been responsible for the spread of the virus. They explore the solutions and propose 4 precautions to prevent it.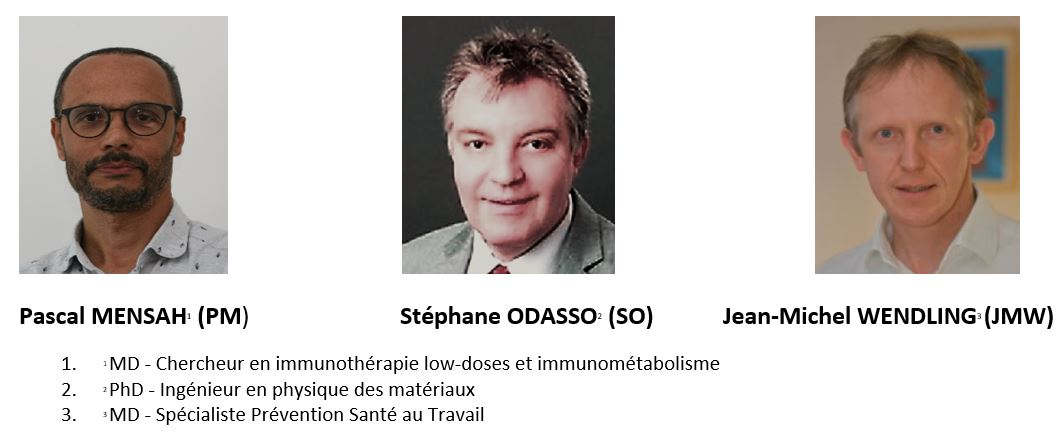 The virus is present in saliva and stool. Through speech, screaming, coughing, saliva splashing is a recognized source of transmission of COVID from one individual to another. Saliva splashing and soiled hands due to poor hygiene after using the toilet (stools that are very rich in CoV-2-SARS) can also contaminate the environment and affected surfaces such as food or food packaging.
While for cooked foods the risk is zero, for foods that are eaten raw, fruits and vegetables, it is theoretically possible that a contaminated food can cause the virus to enter the body orally, put the fruit in the mouth, ingest it and cause illness. This hypothesis has never been really documented to date, but seems theoretically possible.
On the markets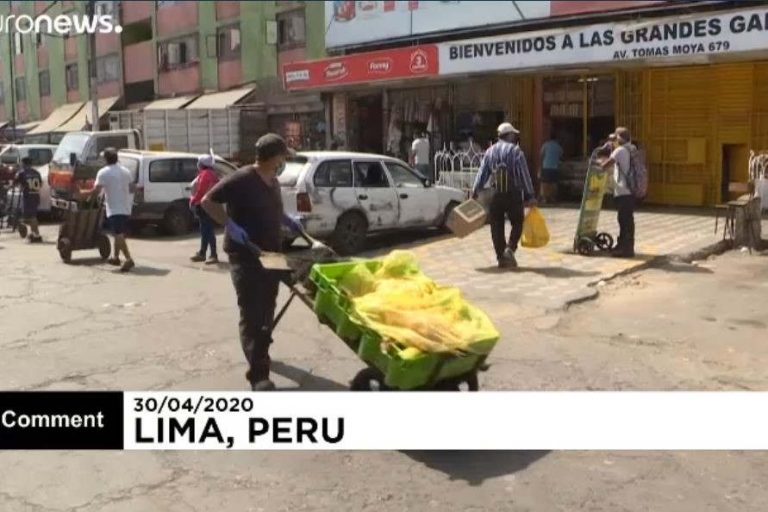 Multiple situations that are challenging in different countries: fruit and vegetable production workers are very affected, especially in Latin America.
It is believed that the coronavirus first appeared in a seafood and wildlife market in Wuhan, Hubei province. What about fruit and vegetable producers and markets?
In Peru, food markets have become the epicenter of VIDC-19's contagion.
Despite 1051 deaths and 36976 illnesses from the coronavirus, mainly in Lima and the Lambayeque region of Peru, people who venture out to shop help spread the virus.
In Lima, where about 10 million people live, food markets have become one of the main sources of contagion according to the authorities, as many buyers do not wear masks. In the Caquetá market, 163 traders tested positive for the virus, after 842 rapid tests. "Markets were probably the main vector of infection, so the quarantine in Peru did not work as it should have," said Eduardo Zegarra, senior researcher at Grade , a development think tank in Lima.
In Brazil, the wholesale market of the CEAGESP in São Paulo, one of the most important on the continent has already seen "countless" cases and about 30 deaths due to Covid-19, according to the president of the union of suppliers to the market. The media showed crowds of buyers and workers in Brazilian markets, most of them without masks. In a TV Record report, Diego Hipólito said that his uncle, a driver, was going to the market daily and was still working when he fell ill with symptoms of the coronavirus before finally dying. "I think he could have transmitted it," he said.
The salad bowl of the world
In Mexico, coronavirus has taken over the vast grid passages of Central de Abasto, the largest market for products in the Western Hemisphere. Central de Abasto covers 1.2 square miles, with endless corridors of fruits and vegetables that supply 80% of the capital and 30% of the rest. Every day, trucks arrive from virtually every corner of the country carrying avocados, melons, pineapples and onions by the ton.
Doctors and officials said the outbreak of infections had overwhelmed them. It has become the epicentre, the teeming heart of a neighbourhood that has recorded more Covid deaths than any other part of the capital, which is itself the center of the national crisis. Pedro Torres, president of the union of fruit and vegetable producers, said 50 people he knew had died by the end of May. Dozens died in the market, perhaps hundreds. Even the government does not know for sure.
In the U.S., at the end of May, there were more than 600 cases of VIDOC-19 among farm workers in Yakima County, Washington. Of these, 62% were workers in the apple industry and other packaging operations or warehouses, according to data from county health officials.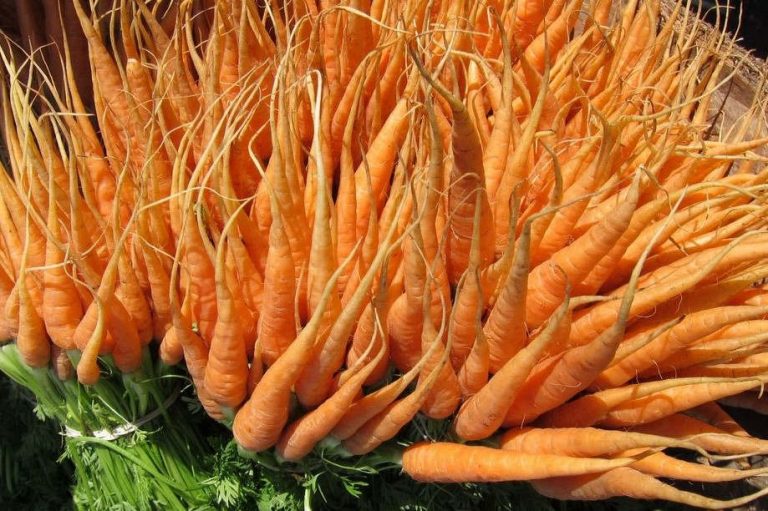 The Monterey County Health Department in California, known as "the salad bowl of the world" for its vast vegetable farms, reported that 247 farm workers had tested positive for coronavirus as of June 5, representing 39% of the county's total cases.
In the adjacent county of Kern, opacity on cases occurred at Grimmway, the world's largest producer of "baby carrots" for snacking that dominates the packaged food market.
A 53-year-old employee died there on April 30. An anonymous Grimmway employee reportedly said that there were so many sick workers that his team was reduced to a third. Grimmway allegedly refused to say how many workers had tested positive for the virus.
At the same time, sales of carrots in U.S. stores had increased 22% over a year ago in the 13 weeks up to May 30, as Americans were buying almost all their food in supermarkets with restaurants closed during the lockdown.
In the state of Michigan, U.S. Senator Debbie Stabenow, in an interview with farm workers, said that "risks increase as fruits like apples and cherries enter the harvest season. In Florida, numerous cases of VIDOC have also been identified near Immokalee at a tomato grower.
Mega cluster
In India, the Koyambedu vegetable market in the city of Chennai, one of the largest in Asia, generated a mega cluster at the end of April, leading to its temporary closure. It is usually supplied with tomatoes transported by trucks from the neighboring state of Andra Pradesh. Cereals, vegetables, fruits and flowers are also sold there every day, attracting tens of thousands of buyers. Together with traders, day laborers and truckers, the average attendance is about 100,000 people. Patient zero would be a 54-year-old vegetable merchant living in Chennai. It would have led to 45 positive cases, 4 of which worked in the market. In Cuddalore district, 114 people who worked for the Koyambedu market tested positive in a single day. 80% of the 348 positive cases in another district, Ariyalur, were traced to the market, many of whom were day laborers. On May 8, Tamil Nadu officials said that 1,589 positive cases in the state could be attributed to the market. By the next day the number had increased to 1,867.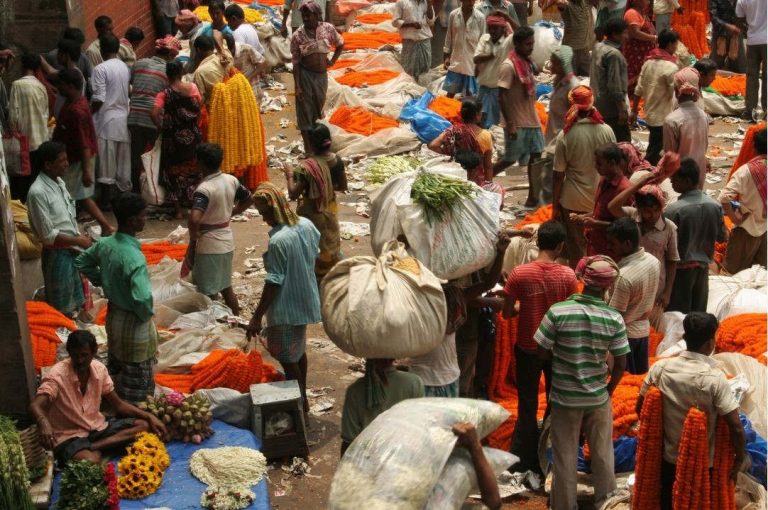 In China, the largest new daily increase in cases since mid-April was reported on June 13, 2020 with 57 new infections according to the National Health Commission. Of the 38 local cases, 36 were in Beijing and the city authorities said they were working at or had recently visited the market. Xinfadi market was closed early to curb the spread. Of the more than 500 samples collected afterwards, the 45 people who tested positive for Covid-19 showed no clinical symptoms.
New leads
China suspects the import of food or its packaging in cold link.
In China, Wu Zunyou, the Chief Epidemiologist, states via an Asian article that "locally transmitted cases in the Beijing Xinfadi market as well as in the markets and communities of Dalian and Qingdao in recent months are all believed to be linked to the virus found on the packaging of imported frozen food sold in these places", "Second, we are wondering if the outbreak in the Huanan market in Wuhan last December could have something to do with imported food as well… This may be a new clue in our ongoing epidemiological investigations," he said.
Wu Guizhen, the CDC's chief biosecurity expert in China, said it may be time to "consider new avenues" in investigating the origins of the virus. "One clue, she said, is indeed the Beijing Xinfadi market itself. The source could indeed be contaminated frozen food from elsewhere, and the market environment has only facilitated the spread of the virus. It could be the same with the Huanan market in Wuhan," Wu said.
The recommendations of the CDC
Although some individuals working in food production and processing facilities have contracted VIDOC-19, according to the CDC (Centers for Disease Control and Prevention), there is no evidence that the virus is spread to consumers through food or packaging that workers in these facilities may have handled. However, the CDC recommends handling them after washing hands and continuing to cook food at recommended cooking temperatures to prevent foodborne illness. CDC does not consider it necessary to wash products with soap or other chemicals, but simply rinse fresh fruits and vegetables gently under cold tap water and scrub firm uncut produce (e.g., potatoes, cucumbers, melons) with a clean brush.
Salt, pepper, vinegar, lemon juice have not been shown to be effective.
Hand washing at the entrance of food stores can be improved upon.
In order to avoid contaminating the food chain, it is essential that farm workers and all workers in the production, transport, logistics and food trade chain wear masks and wash their hands regularly. This is the thrust of the BCCDC (Center for Disease Control British Columbia) recommendations updated on November 19, which now include mandatory masks at farmers' markets. "Employers (including farmers' markets) are expected to enforce the mask policy on both employees (vendors) and customers. A customer may be refused entry if he or she is not wearing a mask.
In France, these measures of wearing an "anti-postillation device or EAP" even "home-made", particularly in food shops, were not applied during the first confinement. The call of many doctors and the alerts launched in Alsace via the media by Dr. Emilie HUTT and the collective stop-postillons led by Dr. Michaël ROCHOY in April 2020 (France 3 grand est 20/4/2020) remained in vain.
Today, at the entrance of food stores, for the hundreds of thousands of daily customers of supermarkets and food shops, wearing a mask is acquired but hand disinfection is still largely forgotten (by more than 80% of customers). This hand disinfection measure seems to us to be mandatory at the entrance in view of the SPF survey of 2016 and the deterioration of hand washing habits pointed out by the IFOP on October 15th, possibly explaining the resurgence of the virus. Some businesses, such as this Biocoop, have since made it mandatory by displaying it very clearly at the entrance.
How to proceed at home?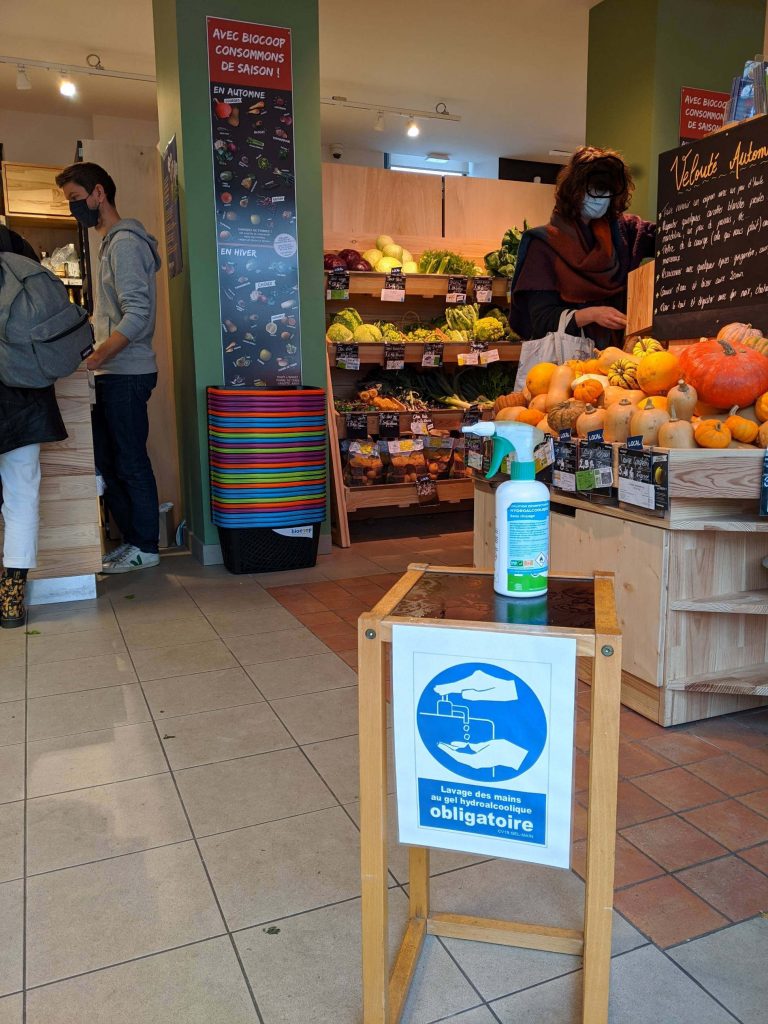 The ANSES believes that the packaging may have been contaminated by dirty hands when handled by an infected person (through hands, sneezing, etc.). ANSES recommends removing the overpackaging (e.g. yoghurt cartons) before storing them. Of course, hands must be washed thoroughly before and after handling these packages. The ANSES and HCSP recommend that before eating (or cooking) fruits and vegetables, they should be washed thoroughly with potable water. Whenever possible, fruits and vegetables eaten raw should be peeled.
University of Sydney associate professor, virologist, Prof Timothy Newsome told the Daily Mail: "We need to remember that every surface is potentially contaminated. And as with any surface, there is a risk. To protect yourself from the potential for transmission, it is best to wash your fruits and vegetables with soap as soon as you get home and rinse them well: "Wash them with warm soapy water, just like you do your hands and rinse with clean water.
No chemicals other than well rinsed soap and water as for hands!
It is contra-indicated to use disinfectants such as bleach or detergent, you would risk intoxication if it was not rinsed properly. The use of white vinegar to rinse your fruits and vegetables is not necessary. It has no virucidal action. After washing with drinking water, wipe the food with a single-use paper towel, helps to eliminate possible viral particles.
For fruits and vegetables, Pr Normand Voyer of the University of Montreal also believes that it is sufficient to finish washing and scrubbing with soapy water and rinse with clear water.
A Spanish retrospective study questioning habits during containment shows that the practice of disinfecting items coming from the supermarket would reduce the risk by 94%.
These results prove, according to them, that "the hygiene and prevention measures implemented in Spanish supermarkets have been effective", and also "suggest certain weaknesses in the maintenance of the hygiene chain".
The destruction of the virus on the packaging chain already implemented on some factories and some companies in the food chain: UV Led insolation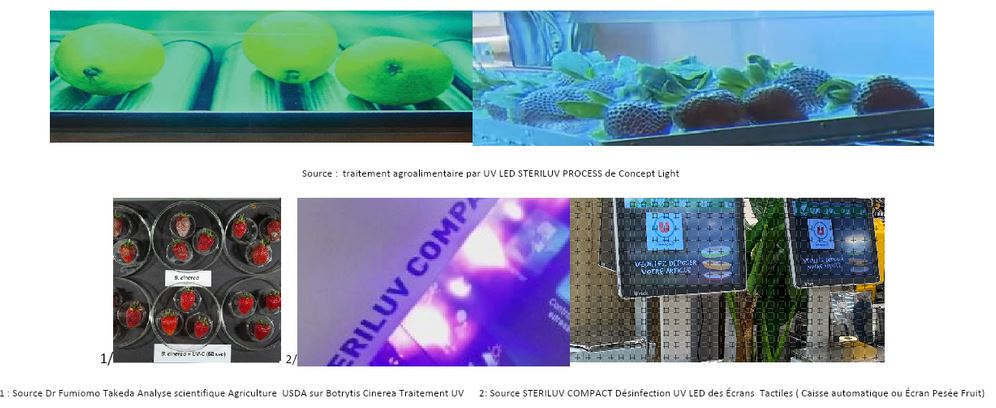 Tatiana Koutchma, PhD, is a researcher at AAFC (Agriculture and Agri-Food Canada) and professor at the University of Guelph. She indicated on May 11, 2020 that infections related to the fruit and vegetable and poultry industries are areas of particular concern. She sees a need for more widespread prevention of contamination during food production, processing and preparation. It suggests the use of ultraviolet or UV disinfection: an emerging, economical, environmentally friendly, non-toxic, non-chemical and non-thermal technology. Numerous studies show that UV in the germicidal or UVC wavelength range (200 to 280 nm) can inactivate a wide range of microbes and destroy many foodborne pathogenic bacteria, including viruses. UV-C light can also extend the shelf life of foods safely without impacting quality and nutritional value. Unlike other technologies, UV can be effectively applied throughout the food production chain, from fields and farms to the consumer's table. UV is effective in mobile, transferable or wall-mounted automated units, such as those sold to combat the coronavirus epidemic.
Subramaniam Sathivel, a scientist at the LSU AgCenter has been working for some time on ways to extend the shelf life of food products: this technology has shown its effectiveness on a microbiological level (carambola study). Some manufacturers in the strawberry sector have already implemented this technology on their packaging lines.
This device, a French worldwide innovation, UV LED technology (ecological without mercury*) is marketed for example by Concept light in Alsace via two equipments : STERILUV COMPACT and STERILUV PROCESS. Its field of application is wide: disinfection of contaminated surfaces (see COMETE experience in IDJ), disinfection of complex surfaces without chemical products, low energy consumption, twice-daily application possible for example on foodstuffs consumed raw, touch screens for weighing fruit and vegetables, bulk food dispensers in food stores and supermarkets (GMS).
In the end: 4 precautionary measures within our reach that depend on each one of us!
Wear the mask especially in contact with food, during meal preparation and in food shops,
Hand washing is essential and repeated, especially after using the toilet, before preparing food, before eating, and before entering a food store,
hydroalcoholic gel on oneself
washing fruits and vegetables before consumption
The authors declare that they have no links of interest with the manufacturers of the cited equipment.
Dr. Pascal Mensah is a researcher in low-dose immunotherapy, Stéphane Odasso, Doctor in materials physics from the University of Aix-Marseille (European label) and Dr. Jean-Michel Wendling, specialist in occupational health prevention (consultant for infodujour).
*Learn more about Ultraviolet LEDs in the food industry: fields of application
Tatiana Koutchma book: Ultraviolet LED Technology for Food Application
Tatiana Koutchma article: Food Technology Principle and Application with UV