Avian influenza, caused by the influenza virus H5N8, is an animal disease that can infect several species of farmed birds as well as birds. Hence the reinforcement of biosecurity measures in Moselle.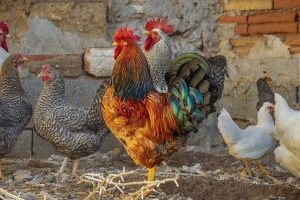 Since the detection of the highly pathogenic avian influenza virus H5N8 in two swans in the Netherlands on October 23, 2020, the number of cases in wildlife in Europe has been increasing steadily. Domestic outbreaks and cases in wildlife have been confirmed not only in the Netherlands but also in Germany and the United Kingdom.
The acceleration of the infection dynamics increases the risk of virus introduction into France via the migration corridors currently used by wild birds.
Faced with this situation, the Minister of Agriculture and Food published on November 4, 2020, an order that reduces the risk of introduction of the avian influenza virus by birds from "moderate" to "high" in the departments crossed by the migration corridors of these wild birds and in the zones at particular risk (ZRP).
Due to its geography, in particular the presence of pond areas, the Moselle department is classified as "high" risk.
Confined poultry
This increase in risk levels leads to the implementation of reinforced biosecurity measures to prevent any contact with wild birds.
They apply to :
– to all non-commercial poultry farms (backyard);
– commercial poultry farms.
As of November 6, 2020, the following prevention measures are therefore made mandatory throughout the Moselle department:
enclosure or protection of poultry farms by a net with a reduction of outside runs for the animals ;
ban on the gathering of birds (e.g. competitions, fairs or exhibitions);
ban on the participation of birds originating from the department in gatherings organized in the rest of the territory; – ban on the transport and release of game birds; – ban on the use of decoys.
These measures complement the measures applied at the national level:
mandatory daily clinical surveillance on commercial farms;
prohibition of carrier pigeon competitions at the departure or arrival of a department mentioned;
mandatory vaccination in zoos for birds that cannot be confined or protected under nets.
The mayors of communes of the department will be invited by the services of the prefecture to relay this information to the owners of non-commercial poultry farms in order to implement the measures to be implemented in these farms.
The owners of non-commercial poultry farms are in fact instructed to confine their poultry or to put up protective nets on backyard premises, and to carry out daily surveillance of the animals.
In case of high mortality of birds or poultry in a farm, the farmer should contact his veterinarian.
In case of high mortality of birds in wildlife, it is advisable to contact either the French Biodiversity Office or the Hunters' Federation of Moselle.
State services in Moselle are fully mobilized to limit the introduction of this new avian influenza virus into the territory.